Media Inquiries
Latest Stories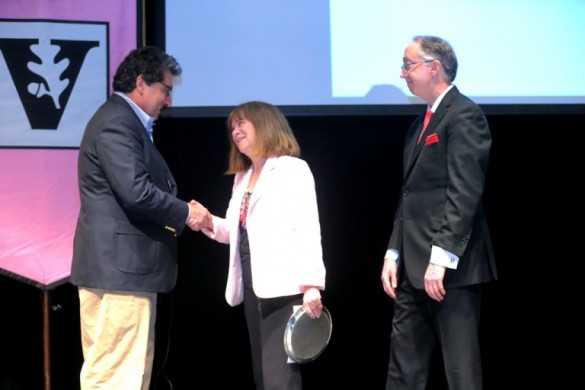 Linda Sealy of the School of Medicine is the first recipient of the Joseph A. Johnson Jr. Distinguished Leadership Professor Award, Chancellor Nicholas S. Zeppos announced at the Spring Faculty Assembly.
The award is named for Johnson, the first African American admitted to Vanderbilt and the first to graduate from the university. He later became the first African American to receive a doctor of philosophy degree from Vanderbilt. The new award recognizes a faculty member whose contributions to the university have enhanced equity, diversity and inclusion in the university's academic endeavors.
Sealy, professor of molecular physiology and biophysics, is director of the Vanderbilt Initiative to Maximize Student Development.
"Linda is revered as a champion for supporting the development of careers in science for a wide and diverse range of students," said Zeppos, noting that she has played "a significant role in identifying, recruiting and mentoring a large number" of the 105 Ph.D.s awarded to students of diversity in Vanderbilt's biomedical research programs.
Sealy and five others were recognized during the March 31 faculty assembly in Langford Auditorium. Also honored were Lorraine Lopez, Velma McBride Murry, Mitchell Seligson, Laura Stark and Lori Troxel.
Lopez received the Harvie Branscomb Distinguished Professor Award for creative scholarship. She has published four novels and two short story collections, which Zeppos said "have garnered praise for her rare ability to write works of great literary sophistication that also hold enormous appeal to the greater reading public."
With colleague William Luis, Lopez was central in the effort to start a Latino/Latina Studies program at Vanderbilt and serves as the program's director.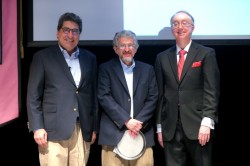 Seligson, Centennial Professor of Political Science and founder of the Latin American Public Opinion Project (LAPOP), won the Alexander Heard Distinguished Service Professor Award, which recognizes scholarship that "increases and informs our understanding of the problems confronting contemporary society" and "pays tribute to faculty members who seek and propose solutions to the issues that confront humanity."
"Mitch's name and scholarship are now synonymous with efforts to give voice to people throughout the Americas in their struggle to establish democratic systems of government," Zeppos said. "With tens of thousands of interviews conducted over more than two decades, he has provided the means for mass publics in more than 26 countries to hold their government officials accountable during watershed periods of democratization."
Zeppos also noted Seligson's extensive use of graduate students to conduct LAPOP polls in hopes of promoting more such polling in the future.
Murry, the Lois Autrey Betts Professor of Education and Human Development, was given the Joe B. Wyatt Distinguished University Professor Award for her significant contributions to research in HIV risk prevention, particularly with rural African American youth.
"Velma has developed novel interventions for underserved families that have advanced the field of prevention science," Zeppos said. "Illuminating how such stressors as racism affect family functioning, her research sheds light on the ways in which family members buffer each other from difficulties."
The award recognizes accomplishments that bridge multiple academic disciplines and honors the development of significant new knowledge from research or exemplary innovations in teaching.
Zeppos also announced the winners of the university's top teaching awards. Both prizes recognize outstanding efforts in classroom presentation, concern for student learning, and clarity and fairness in the criteria used for awarding grades.
Stark, assistant professor of medicine, health and society, received the Ellen Gregg Ingalls Award for Excellence in Classroom Teaching. The award is given on the basis of the faculty member's concern for an individual student's learning, the organization and engagement of classroom presentation, the clarity and fairness of criteria in awarding grades, and accessibility and helpfulness outside of the classroom.
Student evaluations praise Stark's "flair for connecting the ideas discussed in class to relevant health-related events, the causes of health outcomes, disparities and current medical trends."
"Her students comment on being so excited about the class that they plan lunch meetings to discuss the material – with no prompting from the instructor," Zeppos said.
The Madison Sarratt Prize for Excellence in Undergraduate Teaching was won by Troxel, associate professor of the practice of civil and environmental engineering. The prize recognizes outstanding efforts in classroom presentation, concern for student learning, and clarity and fairness in the criteria used for awarding grades.
"Lori … is widely celebrated for employing innovation in her teaching," Zeppos said. "This year she launched a freshman engineering course that engaged students in building a miniature hydroelectric power plant, allowing them to experience firsthand how rushing water generates electricity."
Nominations for each of the teaching awards are made online by undergraduates of all schools and colleges, with final selection made by the chancellor.
All of the award winners received $2,500. The Johnson, Branscomb, Heard and Wyatt award winners also received an engraved silver tray. The winners of the Sarratt and Ingalls awards received an engraved pewter cup.
Stark and Lopez were unable to attend the presentation, but colleagues accepted the awards on their behalf.