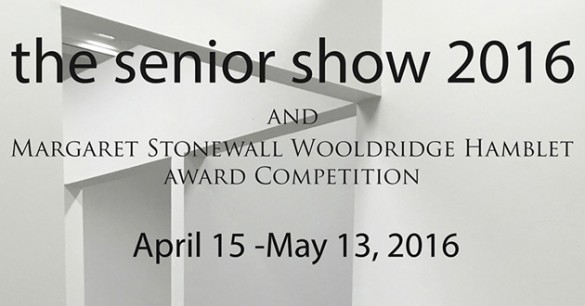 The Department of Art will open its galleries April 15 to reveal the works of 12 graduating art majors.
Senior Show 2016 will open Friday, April 15, with a reception from 4 to 6 p.m. in Space 204, the second-floor gallery at the E. Bronson Ingram Studio Art Center, located at 25th and Garland avenues on the Vanderbilt campus.
At 5 p.m. April 15, the prestigious Margaret Stonewall Wooldridge Hamblet Award will be presented. Senior Show 2016 will run through Friday, May 13.
Gallery hours are 10 a.m.–to 4 p.m. Monday through Friday.
Participating seniors include David Brandon, Julie Choi, Jeffrey Gao, Lucy Gonzalez, Christine Hartnett, Vibhuti Krishna, Jacob Lee, Michael Oberti, Morgan Pinkleton, Lucy Rahner, Lili Valcarenghi and Diana Zhu.
All events are free and open to the public. For more information, visit vanderbilt.edu/arts or contact the Department of Art at (615) 343-7241.
Contact: Martha Dale
martha.l.dale@vanderbilt.edu