Media Inquiries
Latest Stories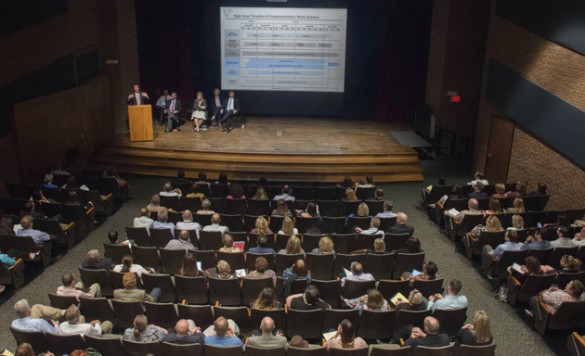 The university's financial, administrative and research support systems will be supported centrally in the future using an Oracle-based solution dubbed "SkyVU." Information about the new solution, as well as the name, were shared by the Enterprise Resource Planning project's executive steering committee with a group of approximately 250 faculty and staff March 15 at Sarratt Cinema.
SkyVU will support the university's unique and growing needs and aspirations as driven by the Academic Strategic Plan. The cloud-based system will replace approximately 15 current e-business services and provide a modern and synchronized environment to allow university faculty and staff to spend less time on paperwork and more time on efforts that contribute to the university's mission.
"The strategic plan charges the university to direct this tremendous community to improve the human condition through excellence in teaching and research," Provost and Vice Chancellor for Academic Affairs Susan Wente said. "Doing so requires that our financial, administrative and research infrastructure is as robust as the people it supports."
Wente said that Vanderbilt is transforming its infrastructure now to:
Improve the quality and accuracy of information to inform swift and smart decisions about where and how to invest resources;
Provide new opportunities for staff to contribute to the university's success;
Modernize processes and systems to allow faculty and staff to focus more of their time and energy on the core mission; and
Mitigate risks from the separation of the Medical Center and to avoid new risks to the university.
SkyVU will provide the type of intuitive user interface and seamless functionality that faculty and staff expect and are accustomed to from their other work and experiences online.
"We've retrained the world on a set of interfaces—everybody knows how to use modern systems in their lives as consumers," Vice Chancellor for Information Technology John Lutz said. "The next wave of people who will be our employees will not tolerate outdated interfaces. SkyVU will give us significant improvement in functionality, a significant upgrade to the interface, and a much more comfortable and more productive work experience, which will support our efforts to keep and attract the best faculty and staff."
While the university has made dramatic advances in recent years, the technological infrastructure to support this work has not kept pace and is now decades behind the infrastructure used by peer institutions.
"Vanderbilt has advanced on a steep upward trajectory in recent years, enabling it to attract the world's best students, scholars and staff. However, this has resulted in increased complexity across the university," Associate Vice Chancellor for Internal Audit and Institutional Risk Management Dennis Johnson said. "Our tremendous growth coupled with increasingly complex business processes present significant challenges as we continue to operate on systems that are decades old. Our growing financial aid program, expanding research base, and enhanced cross-institutional collaboration, while independently extremely positive, create a burden on the systems on which they run."
Steering committee members emphasized that the new systems are intended to free up staff time to focus on greater work, not to replace staff positions. Instead, updating systems will both attract and maintain the type of talent the university needs by eliminating such inefficiencies as paper shuffling and juggling multiple applications to perform a single task.
"We have exceptional people, and we need knowledge and data to enable exceptional decision-making at all levels of the university," said Chief Human Resources Officer Barb Carroll. "Many are frustrated by these inefficient business processes and poor use of their time."
Oracle Cloud was selected, in part, because of its proven ability to meet the university's needs and its robust experience in higher education. It will replace a number of existing applications over time, including the General Ledger, eProcurement, DMS, eDog, C2HR, and most of the applications currently linked on the E-business portal.
"We evaluated vendors based on several factors, including scorecards from our employees, alignment with our vision, vendor commitment and stability, and reference calls with peer universities," Vice Chancellor for Administration Eric Kopstain said. "Oracle Cloud was the natural choice based on Vanderbilt's unique needs. In addition to its current suite of services, it is heavily invested in research and development, so we feel confident that as our needs evolve, Oracle will evolve with us."
A team of staff led by Mark Williams and Nicole Oeser and dedicated to the SkyVU project will assemble work groups with representatives from across the university to develop the plans and processes necessary to transition from existing systems to the new environment.
"We invite members of the Vanderbilt community to share their ideas and concerns about the project," Vice Chancellor for Finance and Chief Financial Officer Brett Sweet said. "We take the needs of stakeholders seriously, and we will consider all suggestions and comments. We are committed to making information about this initiative available to the Vanderbilt community."
Wente, Kopstain, Lutz, Sweet, Carroll and Johnson compose the SkyVU steering committee members.
For more information, email skyvu@vanderbilt.edu.