Renowned education technologist to speak at Vanderbilt
by
Ann Marie Deer Owens
Mar. 5, 2016, 7:49 AM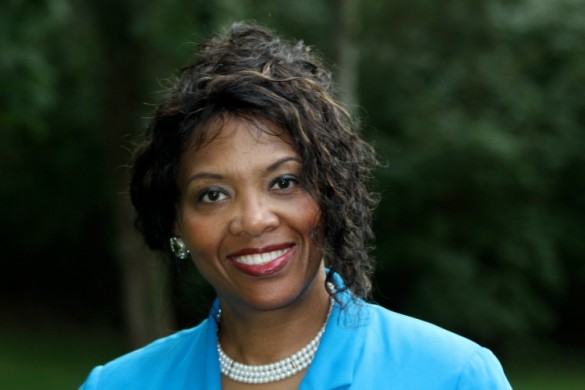 Robbie K. Melton, an educational and workforce consultant who has been called the first "app-ologist" for her expertise with mobile devices and apps, will speak at the Vanderbilt University Central Library March 16.
Melton is associate vice chancellor of mobilization and emerging technologies for the Tennessee Board of Regents. She is also a professor in the Department of Educational Leadership at Tennessee State University.
Melton's talk, "The Emergence of the Internet of Things, Smart-Connected Devices and EduGadgets for Real-Time On-Demand Transformation of Education," will be at 5:30 p.m. in the Central Library's Community Room.
"Professor Melton will engage us on the possibilities and challenges of smart technologies (edugadgets) as data-driven tools for improving academic and social performance," said Jody Combs, interim dean of libraries. "We also look forward to a hands-on showcase of the latest innovations in emerging technologies across the higher education disciplines."
Melton brings extended experience with educational technologies. She spent a decade as the chief administrator responsible for the strategic planning and implementation of the Tennessee Board of Regents' system-wide Regents Online Campus Collaborative, Regents Online Degree programs, and Regents Online Continuing Education program.
Melton earned a bachelor of science and a master of education from Wayne State University before earning an educational specialist degree there in 1976. She then studied at the University of Michigan, where she earned her doctorate in 1979.
Throughout her 40 years in education, Melton has received numerous teaching and technology awards and honors. They include the 2014 Top 30 Technologists, Transformers and Trailblazers recognition by the Center for Digital Education; 2013 Apple Distinguished Educator; 2012 Top 50 Technology Innovation Educator from the Center for Digital Education and Converge; and the 2012 WCET WOW Education Technology Award. She also was a featured speaker at the United Nations UNESCO Mobile Learning Symposium.
Melton's talk is supported by the library and the Wild Bunch Fund, established in 1997 to honor the late Chancellor Emeritus Alexander Heard and his wife, Jean Heard. The fund was started by seven former Vanderbilt student leaders who call themselves the "Wild Bunch." The group formed in 1973 when Heard extended an open invitation to the freshman class to meet for lunch. Those who attended went on to develop strong friendships with each other and Heard over the years, long past graduation. Income from the endowment is also used to purchase library materials.
Melton's talk is free and open to the public. For more information, contact Celia Walker.