MEDIA ADVISORY: Next Steps program to receive Perry Wallace Courage Award; bloggers on hand to join celebration
by
Joan Brasher
Mar. 1, 2016, 8:57 AM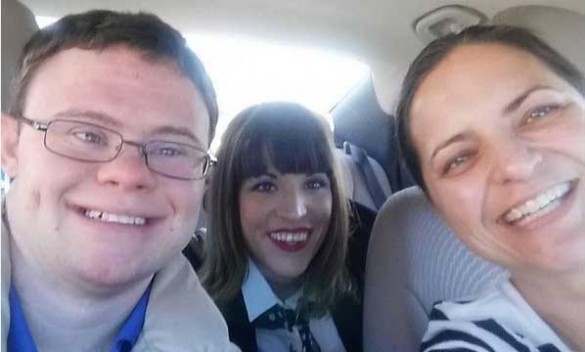 MEDIA ADVISORY
Next Steps program to receive Perry Wallace Courage Award
The Vanderbilt University athletics department will present the Next Steps at Vanderbilt program with the Perry Wallace Courage Award on Tuesday. Joining the celebration will be two nationally known "mommy bloggers," who are Down syndrome advocates and Next Steps scholarship donors. They are spending the day shadowing their scholarship recipient Jason Van Wulven.
WHO:
– Next Steps student Jason Van Wulven
– Founder of Ruby's Rainbow blog Liz Plachta
– New York Times bestselling author and blogger Kelle Hampton
– Vanderbilt Associate Director of Athletics Rod Williamson
– Director of Next Steps Tammy Day
WHERE:
Commons Center at Vanderbilt
267 Appleton Place, Nashville, Tenn.
WHEN:
Tuesday, March 1, 2016
9:30–10:30 a.m.
Jason Van Wulven will work at his internship, illustrating one of the empowering aspects of attending Next Steps.
(Common Grounds)
12:15–12:45 p.m.
Next Steps students will gather for lunch along side Vanderbilt students and share their experiences with Plachta and Hampton.
(Dining Hall)
1–1:30 p.m.
Vanderbilt Associate Director of Athletics Rod Williamson will present the Perry Wallace Courage Award to Next Steps students and staff, and talk about the grit, determination and fortitude that drove Wallace to overcome obstacles to become the first black scholarship athlete to play basketball in the Southeastern Conference.
(Fireside Lounge)
ON SITE CONTACT: Joan Brasher (615) 438-8475 (cell)
More about Next Steps
Founded in 2009, Next Steps at Vanderbilt is the FIRST post-secondary education program founded in the state of Tennessee. Based out of Vanderbilt's Peabody College, Next Steps is a two-year nonresidential certification program for students with intellectual disabilities. Tammy Day is the director.
More about Ruby's Rainbow
The Ruby's Rainbow blog and foundation was inspired by Liz Plachta's daughter Ruby, who was born with Down syndrome. Soon after her daughter's birth, she started a foundation to help young people attend post-secondary educational programs so they could learn, receive job training and life skills and look forward to living independent lives. She has raised more than $150,000 and counting. Visit her website at rubysrainboworg.com
More about Kelle Hampton
Kelle Hampton is a photographer and mother whose daughter Nella was born with Down syndrome. The popular blogger has shared her family's journey and in the process has become an influential advocate and spokesperson for DS. She recently published the New York Times best-selling memoir, Bloom. Hampton is chronicling this week's Vanderbilt visit on Instagram @etst and Twitter @kellehampton. Follow her blog at kellehampton.com
More about the Perry Wallace the Courage Award
The Perry Wallace Courage award was created by Vanderbilt athletics to honor those who reflect the qualities of former Vanderbilt basketball player Perry Wallace, the first black scholarship athlete to play in the Southeastern Conference.