Media Inquiries
Latest Stories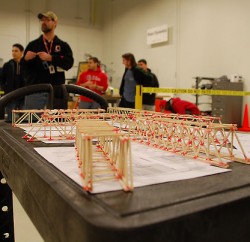 Students from at least six local high schools will bring their basswood-and-glue model bridges to an off-campus Vanderbilt University laboratory on Saturday, Feb. 27, to see how much weight they can hold. The result is an entertaining and educational morning and some spectacularly shattered bridges.
Sponsored by the American Society of Civil Engineers Nashville Branch, the Music City Bridge Building Competition is in its eighth year. Its goal is to interest teens in pursuing engineering careers. The ASCE provides basswood kits to schools in advance and the students design and build bridges they believe will support the most weight.
The bridges are tested by gradually adding more and more weight until they finally collapse. The winning designs are those that use the least material to hold the most weight.
Winners receive cash prizes and trophies, and the top two qualify for the international competition to be held in Chicago later this spring.
The event begins at 9 a.m. and typically runs about two hours. Parking is free and ample.
WHAT: Music City Bridge Building Competition
WHEN: Saturday, Feb. 27, from 9 a.m to 11 a.m.
WHERE: Vanderbilt's Laboratory for Systems Integrity and Reliability, 566 Main Stream Drive, Suite 600, Metro Center