Media Inquiries
Latest Stories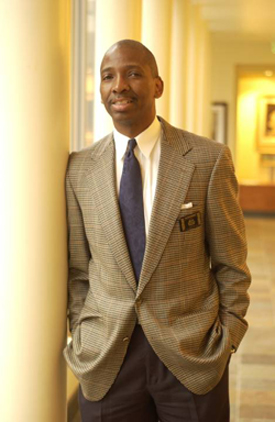 Frank Dobson, assistant dean and director of the Bishop Joseph Johnson Black Cultural Center, has been promoted to associate dean of students effective March 1.
Dobson will continue to head the Black Cultural Center, and as associate dean, will have oversight of the following Dean of Students offices: the Margaret Cuninggim Women's Center, the Office of LGBTQI Life, International Student and Scholar Services, the Office of the University Chaplain and Religious Life, and the Office of Inclusion Initiatives and Cultural Competence.
Dobson's new role will facilitate the integration of the mission and programming of the IICC with that of the Black Cultural Center as Vanderbilt seeks to address issues of diversity, inclusion and intercultural sensitivity. The strategic alignment of the IICC and the Black Cultural Center supports the findings of a spring 2015 listening tour led by university leaders to gain feedback from the Vanderbilt community about diversity and inclusion needs at the university.
Dobson, who also serves as faculty head of Gillette House, a residence hall on The Martha Rivers Ingram Commons, Vanderbilt's first-year student living-learning community, said he welcomes this new opportunity to continue to serve Vanderbilt's students. "Vanderbilt students are very bright and energetic, and they are also quite committed to social change and to learning and growing inter-culturally," Dobson said.
"It is wonderful to see Frank's commitment to students and diversity further recognized by the institution," Cynthia Cyrus, vice provost for learning and residential affairs, said.
"He possesses a great sense of university citizenship, distinctive leadership and the ability to connect with all students to advance Vanderbilt's teaching and learning mission," said Mark Bandas, associate provost and dean of students.
In addition to his new responsibilities as associate dean of students, Dobson, who also is a nationally acclaimed playwright and author, will continue to teach at Fisk University.