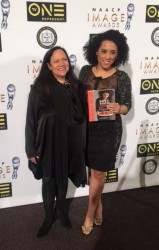 A cookbook co-authored by Vanderbilt University writer-in-residence Alice Randall that translates four generations of African American history through food has been awarded a 2016 NAACP Image Award.
Soul Food Love: Healthy Recipes Inspired by One Hundred Years of Cooking in a Black Family, co-written by Randall and her daughter, Caroline Randall Williams, won in the category of Outstanding Literary Work – Instructional. The book was published in 2015 by Clarkson Potter/Penguin Random House. Randall and Williams were honored Feb. 4 during the NAACP's 47th annual Image Awards ceremony in Los Angeles.
The NAACP Image Awards, established in 1967, celebrate the outstanding achievements and performances of people of color in the arts, as well as those individuals or groups who promote social justice through their creative endeavors.
Randall and Williams will lecture and cook at the Smithsonian's National Museum of American History in the new demonstration kitchen on the Wallace H. Coulter Performance Plaza March 12. They will participate in a program about food heritage across generations of cooking. This is part of a broader Smithsonian Institution, Smithsonian Magazine and White House initiative called Museum Day Live! to encourage girls of color into museums and cultural organizations.
Also, Randall and Williams last summer taught a cooking course related to Soul Food Love for the Osher Lifelong Learning Institute at Vanderbilt.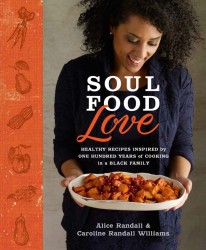 Randall, a writer-in-residence in African American and Diaspora Studies, is the author of The Wind Done Gone, Pushkin and the Queen of Spades, Rebel Yell and Ada's Rules. She serves as the faculty head of Stambaugh House at The Martha Rivers Ingram Commons.
After Randall earned her bachelor's degree from Harvard University in 1981, she moved to Nashville to be a country music songwriter. Last fall she taught "African American Presence and Influence in Country Music," a weekly seminar class for undergraduates. This spring she is teaching "Soul Food as Text in Text: An Examination of African American Foodways."
Williams is currently an assistant professor of English at West Virginia University. She earned a bachelor of arts from Harvard University in 2010 and a master of fine arts from the University of Mississippi in 2015. She and Randall also co-authored The Diary of B.B. Bright, Possible Princess.