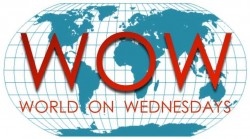 International Student and Scholar Services invites you to World on Wednesdays, which gives students, faculty and Vanderbilt community members the chance to engage with other parts of campus through presentations on topics that address and open discussion on a breadth of global issues and experiences.
Topic: The Office of the University Chaplain and Religious Life, Wellness Programs and Alcohol Education, and the Psychological and Counseling Center have collaborated with student panelists to create a discussion about religious pluralism through the engagement of differences. They used a case study to explore themes of prejudice, identity, tolerance and community with students of different faiths. The presenters for this session include Rachel Eskridge, Cathy Fuchs, Gretchen Person and Mark Forrester, as well as a student panel.
When: Noon-1 p.m., Wednesday, Feb. 17
Where: Student Life Center, lower level meeting rooms 1 and 2. Lunch will be provided.
Questions: Contact derrick.m.stevens@vanderbilt.edu or isss@vanderbilt.edu.