Get free massage at VRWC event
Feb. 6, 2016, 5:04 PM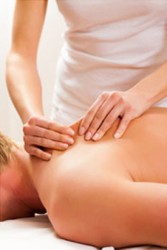 UPDATE: The Vanderbilt Recreation and Wellness Center will host a grand opening event for its new message therapy program on Wednesday, Feb. 24, from 5 to 7 p.m. at the VRWC. Free chair massages, a Thai massage demo, refreshments, and the chance to win free massages will be available.
The Vanderbilt Recreation and Wellness Center will offer massage therapy beginning in February. Skilled massage therapists will provide relaxing, restorative bodywork using a variety of techniques to address your specific needs.
Routine therapeutic massage can improve your health, mood and life. Beyond its significant stress-relieving benefits, massage improves circulation, joint mobility and immune system functionality. Fitness and sports enthusiasts can expect relief from tired and sore muscles, increased flexibility, and faster recovery from strenuous physical exertion.
The VRWC's skilled, professional massage therapists will help you select the modality that best fits your body's individualized needs. To schedule an appointment, email massagetherapy@vanderbilt.edu or call (615) 343-7818.