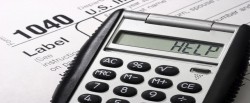 Households earning $62,000 or less in 2015 can have their taxes filed for free through the Volunteer Income Tax Assistance (VITA) Program. All VITA volunteers are trained and IRS-certified to prepare basic tax returns.
How to Participate
In person:
Visit one of the 40 VITA locations in Middle Tennessee, including HR Express at 2525 West End Ave. (2nd floor) and VUMC Light Hall (Room 415 C & D). VITA representatives will be at the HR Express location on Tuesdays from 3 to 6 p.m. Feb. 2–March 15 and at the Light Hall location on Thursdays from 3 to 6 p.m. Feb. 4–March 17. While you don't need an appointment, you will need to bring these items:
Photo ID for adults. Note that both adults must be present if filing a joint return.
Social Security cards or Individual Taxpayer Identification Numbers for all family members going on the return
Proof of income (W-2, 1099, disability year-end statements, etc.)
Optional: proof of expenses for additional credits/deductions (childcare expense statements, medical expenses, property tax statements, etc.)
Optional: proof of mileage if claiming any (must be a written record; please total any business expenses before arriving)
Optional: checkbook with routing number and account number for direct-deposit refund
Online:
United Way now has a free, online option allowing you to file your taxes from the comfort of your home. Visit the My Free Taxes website to learn more.
Questions?
Call the United Way by dialing 2-1-1, or contact the Employee Service Center.
Print a flyer for this event.