A Vanderbilt University professor has researched true stories of people and their dogs—some tender and some disturbing—to make a compelling case for re-thinking our treatment of both of them.
Colin Dayan, the Robert Penn Warren Professor in the Humanities and professor of American studies in the College of Arts and Science, is the author of With Dogs at the Edge of Life (Columbia University Press, 2016).
Dayan, who is also a professor of law, emphasized that it's the relationship between dogs and humans that is important to her research. The actions surrounding that relationship provide tremendous insight into what we have become as a society.
"The book is making a plea for us to think differently about our relationships because this is a time, as I see it, of extinctions," Dayan said. "[lquote]Certain groups of people and certain kinds of dogs are labeled and easily disposed of."[/lquote]
Dayan's family had dogs while she was growing up in Atlanta, but her passion intensified while she was living in Tucson, Arizona. She began to work with American Staffordshire terriers, also known as pit bulls. "I saw something in those dogs that I hadn't expected, given that most of the media presents them as time bombs, weapon dogs," Dayan said. "I began very closely to think about dogs, not only in my life, but how dogs work for other people in ways that might differ from the typical pet."
Her research began while Dayan was finishing The Law Is a White Dog (Princeton University Press, 2011). She learned about 57 pit bulls seized and euthanized in Louisiana during an investigation into alleged dogfighting. The owners of the dogs, Floyd Joseph Boudreaux and his son, Guy Anthony Boudreaux, were eventually acquitted of the charges.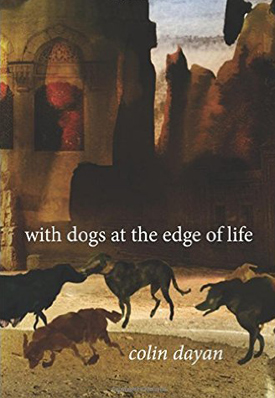 "I observed in so many cases that the first thing seized in police raids were often the suspects' dogs," Dayan said. "They were not just pit bulls, but they were usually large dogs. It's that kind of pre-emptive justice, that kind of labeling and stigmatization, that opened my eyes to the ways in which people with power can hurt the poor and marginalized populations as well as their dogs."
Dayan writes in the book's introduction that every culture needs its scapegoat and the pit bull has become an easy target. "Though this dog is the most obvious brunt of human cruelty, every dog—especially any large dog that has not been tailor-made according to the needs of humans —is at risk, whether in public housing or in the co-ops of New York or on the streets of Romania, Turkey, Mongolia or Detroit, or in the kill shelters of the United States."
Dayan said that this has been her most meaningful book, with a strong emphasis on her prose "to get the pulse and rhythm of what it is to think through the life and breath of dogs. It's been a powerful experience for me."
She hopes that readers will take away the need to emulate dogs in terms of inhabiting a world without judgement. "Dogs came to matter to me for not only themselves, but also for what they could teach me in a very, very wise sense about empathy and engagement across class and racial lines."
Dayan will discuss With Dogs at the Edge of Life at 2 p.m. Jan. 16 at Barnes & Noble at Vanderbilt, located at 2501 West End Ave. For more information about this event, email John Lasiter or call 615-343-2665.