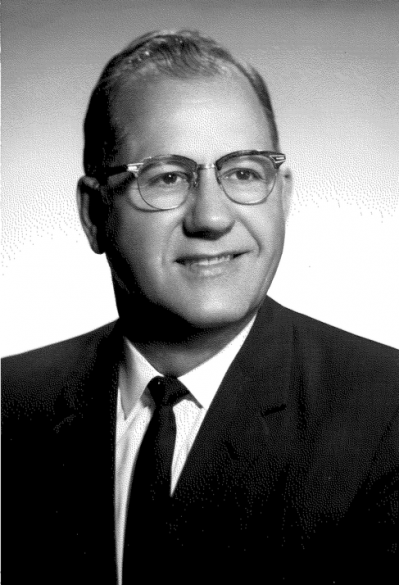 Ernest Jones, one of the last of the generation of scientists to have worked on the Manhattan Project, died Dec. 19. He was 97.
Jones was an emeritus professor of physics at Vanderbilt University. He joined the faculty in 1950. During his 37-year career at the university, he taught thousands of students, directed numerous Ph.D. candidates and was credited with leading many students to majors in physics.
Jones was born on June 5, 1918, in Columbia, Kentucky, to Leonard and Hattie Jones. He graduated from what is now Western Kentucky University in 1941, after teaching in one- and two-room schools to help pay for his expenses.
Jones received a scholarship to Vanderbilt and earned his master's degree in physics in 1942. He was then recruited to Columbia University for a highly classified project, which became known as the Manhattan Project.
Working alongside the leading scientists of his generation, including several Vanderbilt faculty members, his group developed the barrier used to separate the U235 and U238 isotopes by gaseous diffusion. Jones wrote the first paper describing the technical details of the separation in 1942, which to this day remains in the most highly classified files at the Oak Ridge National Laboratory. The separation of the barrier made possible the enormous gaseous diffusion uranium separator plants that were integral in the development of the atomic weapons used in the bombings of Hiroshima and Nagasaki, which led to the end of World War II. Immediately afterwards, Jones was hand-delivered a letter from Secretary of War Harry Stimson thanking him for his critical contribution.
Jones received his doctorate from The Ohio State University in 1948 and worked for two years at Oak Ridge National Laboratory before joining the Vanderbilt faculty in 1950.
In his research, Jones specialized in molecular spectra and structure and infrared and raman spectroscopy. He was a member of the American Physical Society and served as vice chairman of its Southeastern Section from 1964-65 and as section chairman from 1965-66.
In 1977, the society presented him with its George B. Pegram Award for Excellence in Physics Education in the Southeast. In a letter nominating him for the award, Landon C. Garland Professor of Physics Joseph H. Hamilton wrote, "He can undoubtedly point to more physics majors who were led into their field though his own personal efforts than anyone in the Southeast." In another letter nominating him for the same award, the late Vanderbilt Professor of Physics W.T. Pinkston wrote, "(Jones) has been very successful in attracting into physics large numbers of students, who, otherwise, would not want to touch the subject with the proverbial 10-foot pole."
In 1978, the Ernest A. Jones Faculty Advisor Award was established in the Vanderbilt College of Arts and Science by a grateful parent in recognition of the excellent academic advice his son received from Jones. Each year, the award honors a faculty member for dedication to undergraduate advising. Its recipient is chosen by graduating seniors; Jones was its initial recipient in 1978. He was also awarded the Department of Physics and Astronomy's first award for outstanding teaching in 1986.
Jones served as a visiting lecturer in the Department of Ophthalmology at the Vanderbilt School of Medicine and as associate director of the Fisk Infrared Institute, where he trained numerous scientific workers. He also served as chairman of the Vanderbilt Athletic Committee for many years and served on multiple other university committees.
Jones married Frances Shirley, who grew up five miles from him, in 1948. She died Dec. 31, 2011. The couple had three sons: Elliott Warner (Marilyn), Dr. Bruce Emerson (deceased) (Marjorie), and Dr. Phillip Ritchie (Marsha). They are survived by three grandchildren and five great-grandchildren.
A private family ceremony will be held at a later date. In lieu of flowers, the family requests that memorial contributions be made to Alive Hospice at 1710 Patterson Street, Nashville, TN 37203, or to the Ernest A. Jones Scholarship Fund at Vanderbilt University.