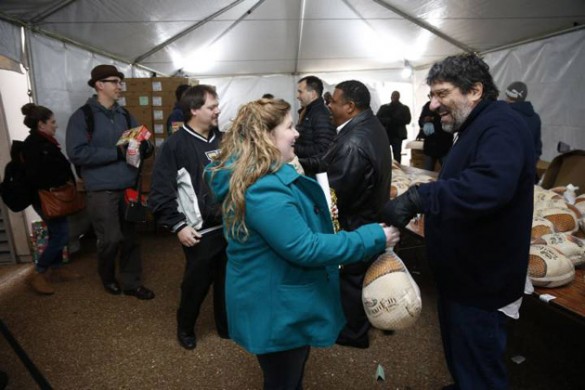 Vanderbilt's 2015 Holiday Gift Giveaway was held Friday, Dec. 18, at Langford Auditorium and at Vanderbilt Health One Hundred Oaks. Despite the cold, employees came out by the thousands to pick up their gifts at the two locations, while employees working in Williamson County and other outlying areas received gifts from their managers. Employees chose a turkey or tofurkey, and a limited number of Vanderbilt aprons and oven mitts were distributed.
At the main campus location, employees were greeted by Santa and a dancing Christmas tree, while a turkey helped keep the lines moving. Representatives from Vanderbilt Athletics, the University Staff Advisory Council and the Vanderbilt Recreation and Wellness Center also were on hand at the annual Employee Celebration event.
"This event is so organized and efficient," members of the Center for Health Behavior and Health Education team said. "It's nice to feel appreciated, and I love all the smiling and singing. The tree and carols make it a joyous occasion, and I'll be able to enjoy turkey for several days!"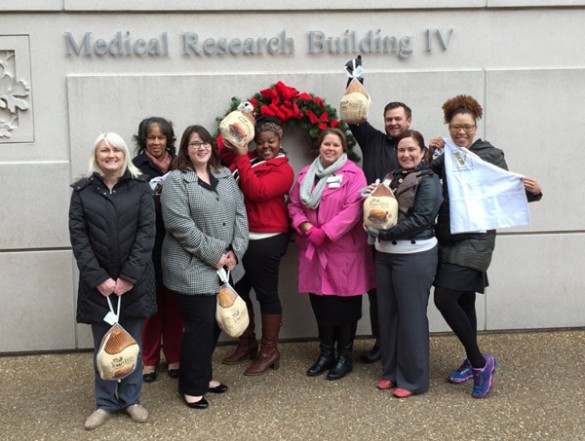 Members of the Surgical Outcomes Center for Kids also shared their feedback. "This is always one of my favorite Vanderbilt traditions, and I look forward to it every year. I love how Vanderbilt donates the leftovers to Second Harvest Food Bank."
Volunteers facilitated and coordinated the lines, swiped IDs, distributed tickets and handed out gifts, while senior leaders were among those who gave out turkeys and tofurkeys. Surplus turkeys will be donated to Second Harvest Food Bank.