Media Inquiries
Latest Stories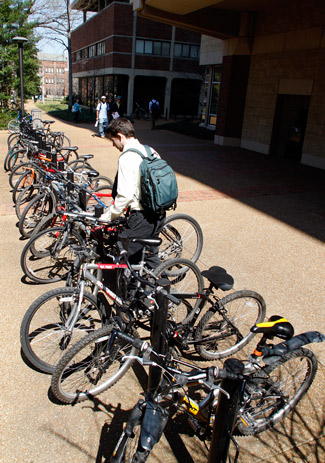 The League of American Bicyclists has named Vanderbilt University and Medical Center a Bicycle Friendly University at the bronze level. With this designation, Vanderbilt becomes one of 127 BFUs in 42 states and Washington, D.C.
As defined by the league, bicycle friendly communities, businesses and universities are those that create safe and convenient places to ride and park bikes; give people of all ages and abilities the skills and confidence to ride; create a strong bike culture that welcomes and celebrates bicycling; ensure safe roads for all users; and plan for bicycling as a safe and viable transportation option.
Among the programs and initiatives that contributed to Vanderbilt's Bicycle Friendly University designation are:
Vanderbilt's websites that show the locations of all bike racks and showers on campus, as well as other bike resources;
Vanderbilt's recent installation of covered bike racks on campus;
The creation of the Vanderbilt Bicycle and Pedestrian Advisory Committee (V-BPAC) to address bike and pedestrian concerns at the university and Medical Center;
Bike registration services offered by the Vanderbilt University Police Department;
The student-run Vanderbikes bike-rental and maintenance program;
Vanderbilt's sponsorship of the Nashville B-cycle bike-sharing program;
Vanderbilt's collaboration with Metro Nashville government to encourage bike lanes that provide safe travel to and from campus;
Vanderbilt's long-standing sponsorship of the Tour de Nash, Nashville's community bike ride; and
Vanderbilt's sponsorship of the Mayor's Open Street event.
"Being recognized as a Bicycle Friendly University endorses the steps that Vanderbilt is taking to make cycling to, from and around campus easier and safer," said Jim Kramka, senior director of housing operations for Vanderbilt's Office of Housing and Residential Education. "For many years, I have walked to work most days, and I have seen an increase in the number of people cycling to and from campus. I also see more people—and not just students—using bicycles to move about the campus.
"Cycling reduces their time getting from one side of campus to another, and that means they have more time for studies and for activities outside of class," Kramka said. "Cycling also provides opportunities for exercise, recreation and even competition. An avid cyclist myself, I find it a great stress reliever and a fun way to experience Nashville and Middle Tennessee."
Vanderbilt's continued investment in bicycling can lead to a decreased carbon footprint for the university, a reduction in health care costs among students and employees, a more connected university community, and a fun and healthy campus culture.
"Receiving this designation recognizes Vanderbilt's commitment to being a walkable and bike-able campus even in our high-density, urban setting," said Andrea George, director of Vanderbilt's Sustainability and Environmental Management Office. "Biking is an important sustainable transportation mode that reduces greenhouse gas and other harmful air emissions, reduces vehicle congestion, and improves the health and community connectedness of our commuting faculty, staff and students."
"In addition to being a fun, convenient and environmentally friendly method of transportation, bicycling is a great way to be physically active and thus foster the health and well-being of the Vanderbilt community," said Lori Rolando, medical director of Health Plus. "This recognition is an affirmation of the hard work and dedication of so many to making Vanderbilt University and Medical Center a welcoming and safe environment for cyclists."
As a designated Bicycle Friendly University, Vanderbilt will have access to a variety of free tools and technical assistance from the League of American Bicyclists. The league is leading the movement to create a Bicycle Friendly America. For more information, visit the organization's website.