Media Inquiries
Latest Stories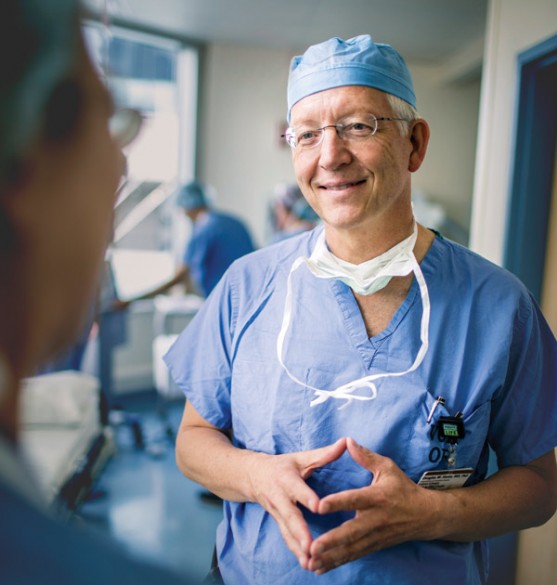 Nine months after arriving as the new associate director of the Vanderbilt Transplant Center and eight days after the pediatric liver transplant program at Monroe Carell Jr. Children's Hospital at Vanderbilt was launched, surgeon Douglas Hanto transplanted a new liver into 10-year-old Aubree Vanzant.
Hanto gives much of the credit to Aubree, who is now home and back in school in Maryville, Tennessee. "She was a star patient," he said. "She was strong and never complained."
But he also credits the teamwork at Children's Hospital with making the program's launch seamless. "I've been thrilled, but not surprised, by the commitment to excellence and the expertise of everyone," he said.
Hanto has been working with the departments of Pediatrics and Surgery to develop a comprehensive pediatric liver center at Children's Hospital. "Our goal is to build a liver center that would include medical, surgical and transplant components," he said. "[lquote]Not only is there a need for such a program, but the expertise and support are already here."[/lquote]
Hanto graduated first in his class from the University of Arizona School of Medicine and came to Vanderbilt from Washington University School of Medicine in St. Louis, where he was professor of surgery and associate dean for continuing medical education. Prior to that, he was chief of the Division of Transplantation at Beth Israel Deaconess Medical Center in Boston and Lewis Thomas Professor of Surgery at Harvard Medical School for 11 years.
He first fell in love with medicine, specifically surgery, when he had an appendectomy in the seventh grade. Initially he planned to be a heart surgeon, but in his first transplantation rotation during residency training at the University of Minnesota, he was sold.
At Vanderbilt, Hanto will continue his research into the ability of inhaled carbon monoxide at low concentrations to reduce preservation injury—damage that can occur in the harvesting, transportation and reperfusion of the donor liver during surgery—and improve survival in kidney transplantation. Using animal models, he has shown that the treatment is effective in restoring kidney function more rapidly after transplant. The method is presently being studied in the kidney, but Hanto hopes to expand the studies to include all transplanted organs. "The goal is to bring this to the patient," he said.
Hanto has three children, six grandchildren, and two stepchildren with his fiancée Mary Klingensmith, a general surgeon at Washington University. He enjoys running, skiing, hiking, golfing—"anything outdoors"—and is an avid reader.
He also is writing a medical novel about medical ethics and how we make certain ethical judgments about medical situations when others are involved. "But when it becomes personal and involves us or our loved ones," he noted, "our perspective and ethical judgments may change."
View the complete list of new university faculty for 2015-16.
View the complete list of new medical faculty for 2015.