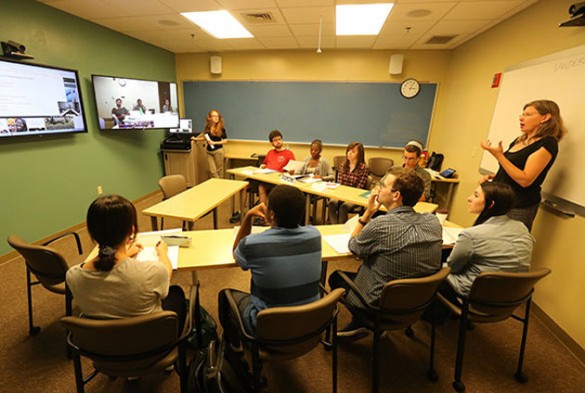 Vanderbilt students have the opportunity to learn Haitian Creole and Tibetan via a distance-learning collaboration among Vanderbilt University, Duke University and the University of Virginia. In return, students at those schools can now learn K'iche' Mayan alongside Vanderbilt undergraduate and graduate students.
The universities' Partnership for Less Commonly Taught Languages initiative allows the institutions to share specialized language expertise with students at peer schools.
Each school has a videoconference classroom set up with multiple video screens, cameras and microphones. Instructors teach those students in the room with them as well as those in the two long-distance locations. At Vanderbilt, all the classes take place in a newly equipped video classroom in Calhoun Hall.
"Vanderbilt is renowned for Mayan studies and offers four semesters of K'iche' Mayan," said Lauren Benton, dean of the College of Arts and Science. K'iche' Mayan, one of the most common indigenous languages in Latin America, is spoken by about 1 million Maya in Guatemala.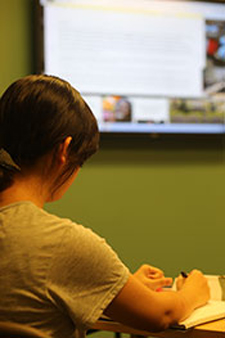 "This partnership allows us to share our expertise with Duke and UVA while opening up new language opportunities for Vanderbilt students," Benton said, noting that Duke and UVA have similar strengths in Haitian Creole and Tibetan respectively.
Karen Campbell, senior associate dean for undergraduate education in the College of Arts and Science, serves as Vanderbilt's point person on the project. "It's tough to attract students and to afford qualified instructors to teach LCTLs," she said. "This type of pooling of resources could work for other types of classes, too."
Mareike Sattler, senior lecturer in anthropology, is teaching Elementary K'iche' this fall semester. She also teaches other levels of K'iche', which will be offered to Duke and UVA students on a rolling basis.
Sattler says that she plans classes in a new way because of the long-distance component. "Student interaction— an important part of language learning—has to be a bit more organized and cannot be quite as spontaneous as in a conventional classroom," Sattler said. "The cameras react to audio cues, so I encourage students to speak out if they want to contribute rather than raising their hands."
One aspect that she's working to foster is a sense of one learning community for the students at the different campuses. She holds office hours via Skype and similar technology so that the distant students can form relationships with her. "Students have to connect with me for various individual sessions as well," she said. "At the remote locations, study groups have formed to reinforce the community aspect of learning." Additionally, she'll travel to Charlottesville and Durham so that she and the students there have an opportunity to meet in person.
Sattler has a full enrollment in Elementary K'iche' this semester: 21 students are registered, with participants from Duke and UVA filling 13 of the spots in the course. Students receive three credit hours for the classes at their home universities, regardless of the origin of the course.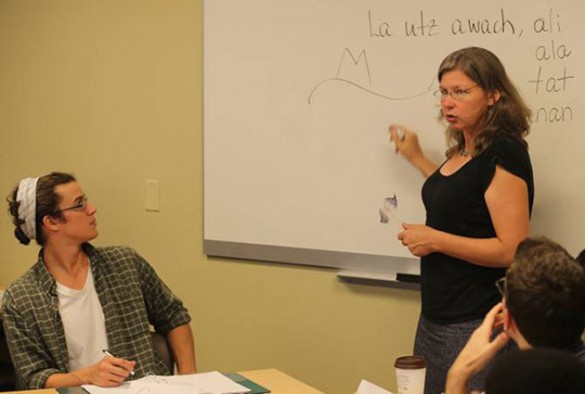 The long-distance program is reciprocal: One Vanderbilt graduate student is enrolled in Duke's Intermediate Creole class and a Vanderbilt undergraduate is taking University of Virginia's Elementary Tibetan, supported by a Vanderbilt facilitator who speaks Tibetan. The language courses' enrollment is expected to increase as more students learn about their availability.
Associate Provost for Undergraduate Education and Digital Learning John Sloop sees great potential for this kind of partnership. "This is a win-win-win: more courses for our students, more students learn these languages and more opportunities for Vanderbilt to envision and explore innovative instructional techniques for the future," he said. "It's easy to imagine other ways in which digital learning classrooms would make it possible to share resources and scholarship with our peers and improve our overall educational offerings."
A Vanderbilt University IT team worked with outside vendor M3 Tech Group to equip the videoconference classroom, one of only two distance-learning set ups at Vanderbilt. They also worked with Sattler to determine what seating configuration would allow students in Virginia and North Carolina to see their classmates in Tennessee. The end result allows the instructor to pan, tilt and adjust the camera view as needed.