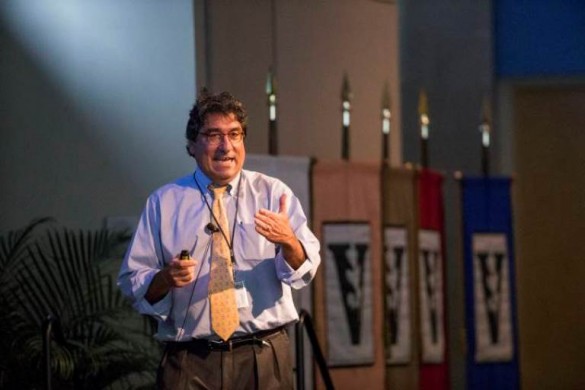 Three new chairs promoting diversity and inclusion mark the start of a significant new effort at Vanderbilt University, said Chancellor Nicholas S. Zeppos during his bi-annual address to the Faculty Assembly.
"If Vanderbilt does not address issues of diversity, inclusion and culture, and [instead] acts like everything is just fine, it will fail as an institution," Zeppos told a standing-room-only crowd of faculty in the Student Life Center on Aug. 27.
"This is a project of great importance. It is the most important thing I'm going to be spending my time on," he said. "At the center, it's really a matter of race. It is America's most fundamental challenge."
The new John L. Seigenthaler Chair in American History, funded by a gift from the James Stephen Turner Family Foundation, will support a faculty member in the College of Arts and Science and will have a focus on civil rights and the civil rights movement. The Dorothy J. Phillips Chair to Support Diversity in STEM will encourage minority participation in science, technology, engineering and math. And the Levi Watkins Jr., M.D. Chair will be awarded to a medical school faculty member who is a leader in diversity.
"We have to realize that we have become more diverse, but there are so many people who are at the periphery and they feel marginalized," Zeppos said. "It's not as welcoming as you might think at the core, and we need to work on that."
Zeppos announced a 15-person committee to work on issues of inclusion, diversity and community at Vanderbilt. It will be co-chaired by Keivan Stassun, professor of physics and astronomy and senior associate dean for graduate education and research in the College of Arts and Science, and Beverly Moran, professor of law and sociology. In addition, the chancellor has appointed a separate advisory committee that will meet with the chancellor regularly and advise him on inclusion, diversity and community issues.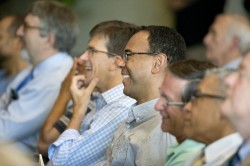 A series of breakfasts were announced, where faculty will be welcome to question Zeppos on any issue. Those will be held at 8 a.m. on Sept. 2, Oct. 7, Nov. 4 and Dec. 4 at the University Club. Faculty are asked to reserve a seat in advance.
In addition, there will be a series of town hall meetings on a variety of topics. They are scheduled from 9:10 to 11 a.m. Sept. 18 and Oct. 13, and from 2:10 to 4 p.m. Nov. 6 and Dec. 1.
The assembly began with a presentation by John C. Gore, University Professor of Radiology and Radiological Services, Hertha Ramsey Cress Chair in Medicine, professor of physics and astronomy and professor of biomedical engineering, on "The Pursuit of Useless Ideas."
The chancellor also gave an overview of economic and financial developments that have affected the university in recent years.
Faculty who have attained 25 years of service were acknowledged, and research awards were distributed.