Campus News
by
Joan Brasher
Jul. 15, 2015, 2:00 PM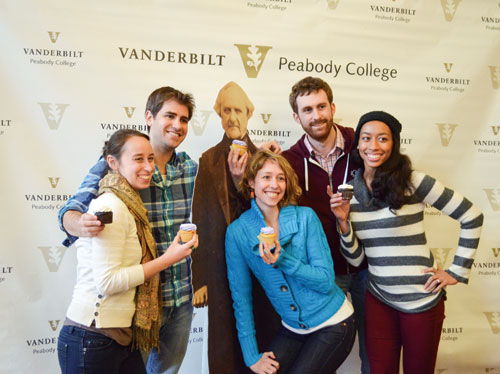 Students celebrate George Peabody's birthday
On Feb. 18, 2015, George Peabody would have turned 220 years old. The Dean's office hosted a party at which more than 350 students, faculty and staff gathered to celebrate. They enjoyed cupcakes and took photos with a life-size cutout of the school's namesake.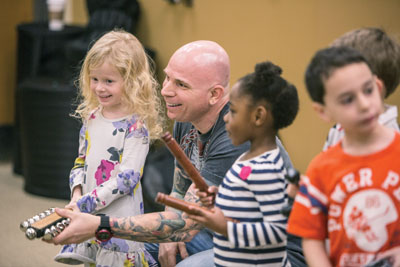 Country musician visits Susan Gray School
Sean Fuller, drummer for country band Florida Georgia Line, visited the Susan Gray School for Children. Fuller demonstrated several different drums, and the children joined in with hand-held percussion instruments. The Susan Gray School is an innovative preschool on the Peabody Campus where children with developmental disabilities and children who are typically developing learn and play side by side.
Forum held on standards and testing
Peabody partnered with the Vanderbilt Center for Nashville Studies and the downtown Nashville Public Library in February to host a panel discussion, "Standards and Testing: What's Missing from the Current Debate." About 150 individuals attended. Panelists included Rogers Hall, professor and chair, Department of Teaching and Learning; Carol R. Johnson, visiting professor; Barbara Stengel, associate chair of teaching and learning; Marcy Singer-Gabella, chief academic officer for Project GRAD; Rich Lehrer, Frank W. Mayborn Professor of Teaching and Learning; and Catherine Gavin Loss, assistant professor of the practice, leadership, policy and organizations.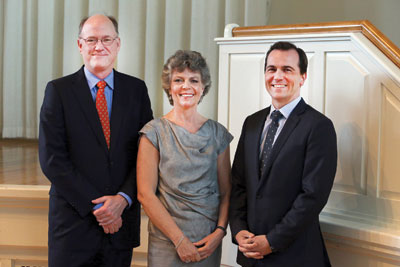 Lawmakers address student teachers
Peabody hosted a panel discussion, "Policymakers Talk Teaching," in April at the Wyatt Center Rotunda.
Panelists included Sen. Steven Dickerson, R-Nashville, who talked about what preparation programs can do to help encourage longevity in the teaching field; and Rep. John Ray Clemmons, D-Nashville, who discussed the role advocacy should play in teacher preparation and development.
Catherine Gavin Loss, assistant professor of the practice, leadership, policy and organizations, also served as a panelist.
Commencement 2015
Member of first Posse cohort named Distinguished Alumna
Shirley M. Collado, BS'94, is Peabody's 2015 Distinguished Alumna recipient. She is a Brooklyn-born daughter of Dominican immigrants and a member of the very first Posse cohort at Vanderbilt. She was the first person in her family to attend college.
Today, she is a champion for inclusion and diversity initiatives in higher education. She has taught at several institutions, including New York University, Georgetown University, George Mason University, The New School, Middlebury College and Lafayette College.
She was the first Posse Scholar to receive a doctoral degree and become a trustee of an institution of higher education, her alma mater, Vanderbilt. She currently serves as the executive vice chancellor for strategic initiatives and executive vice provost at Rutgers University–Newark (New Jersey).
Founder's Medal awarded to Sally Nichols
Sally Catherine Nichols, from Worthington, Ohio, was recognized at Commencement as Peabody's Founder's Medalist. Nichols graduated with a bachelor of arts in elementary education with a second major in special education. A Peabody Scholar, National Merit Scholar and recipient of a Peabody Dean's Achievement Scholarship, she is an accomplished mentor and promising teacher. As program director for TAP, The Afterschool Program, Nichols recruited more than 200 student mentors to commit to weekly service. Additionally, she founded United Nashville, an intra-university student service organization.
Steiger honored as emeritus faculty
James H. Steiger was honored as professor of psychology, emeritus, at Commencement. Steiger came to Peabody in 2003 as a professor of psychology. He is the past director of the Quantitative Methods and Evaluation Program in the Department of Psychology and Human Development. He received his bachelor of arts in 1970 at Cornell University in Ithaca, New York, and then went to the University of Oklahoma, where he received a master of science in 1972. He earned a doctoral degree in 1976 at Purdue University.  He received the Killam Research Prize, the Raymond B. Cattell Award and the Samuel Messick Distinguished Scientific Contributions Award for his work in multivariate statistics and psychometrics.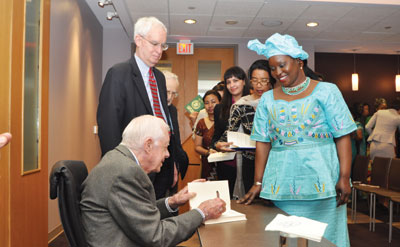 Humphrey Fellows attend social justice workshop
Several of Peabody's Humphrey Fellows attended the Hubert H. Humphrey Fellowship Program's 28th Annual Global Development and Social Justice Enhancement workshop in Atlanta.
They participated in lectures and workshops on economic inequality and women's education, including one led by former President Jimmy Carter. Carter spoke with Fellow Geeta Motilal of South Africa, about a Habitat for Humanity project in her hometown of Durban, South Africa.
The fellows completed their time at Peabody in June.