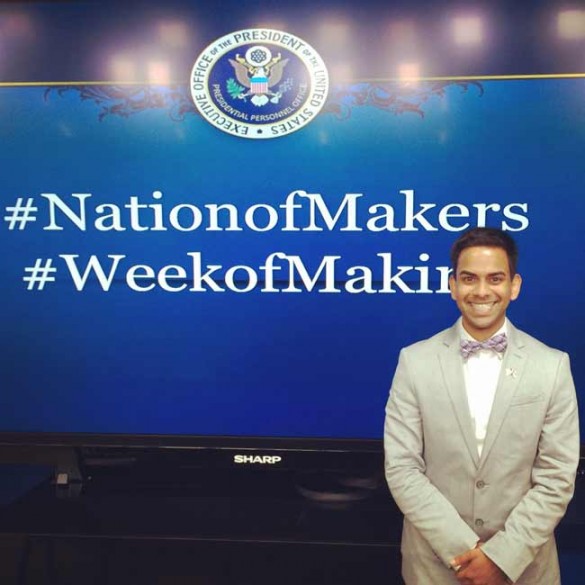 The White House recognized Gokul Krishnan, a Ph.D. student in learning sciences at Vanderbilt's Peabody College of education and human development, on June 12 as part of a kick-off celebration for the National Week of Making (June 12-18).
Last June, President Obama hosted the first-ever White House Maker Faire and issued a call to action for all of America to encourage and "lift up" the efforts of makers, builders and doers across the country. This year the president gathered Krishnan and others to recognize them for their innovative creations, which promote the science, technology, engineering and math (STEM) fields.
Krishnan was chosen for his mobile Makerspace, a learning cart that he created for patients at the Monroe Carell Jr. Children's Hospital at Vanderbilt. It was inspired by patients with chronic illnesses he met while volunteering at the hospital.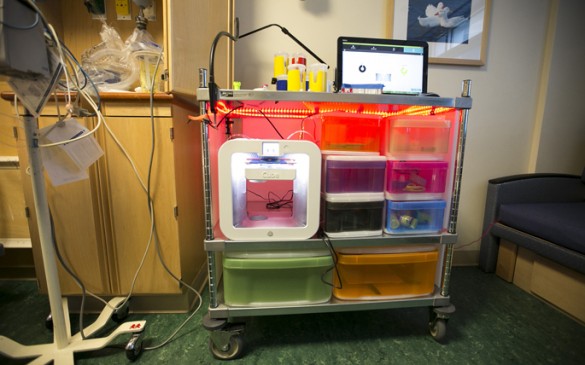 Also known as Project M@CH, the learning cart is equipped with LED lights, wires, microcontrollers and a 3-D printer to engage young patients who enjoy engineering activities.
At a White House briefing, Krishnan spoke about his vision for his research, which he calls "Maker Therapy."
"The intent of these mobile Makerspaces is to provide children (with chronic illnesses) with creative outlets and learning opportunities; but equally important, to encourage social interchange with others and improve patient health care by increasing physical mobility," Krishnan said. "As I worked with the children, I didn't see a bunch of sick kids, I saw a bunch of really creative children."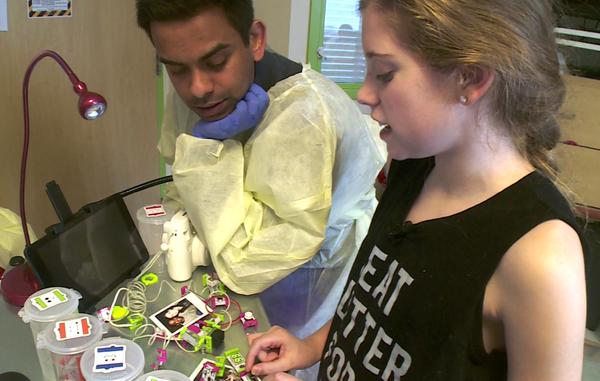 He said that the gadgets the children chose to make fell into several general categories, such as room decorations, privacy maintaining-devices and gadgets that depicted the patient's mood or state of well-being.
"My favorite, and most popular with the children, were contraptions intended to scare or prank adults, especially nurses," he said with a laugh.
Krishnan said that his research has a long way to go, but he is convinced that his mobile Makerspace is a powerful tool for meeting the needs of children with chronic illnesses like leukemia and cystic fibrosis, which often require long hospitalizations.
"I strongly believe that the millions of children with chronic illnesses should not be deprived of the rapidly growing global maker movement," he told the assembly of fellow researchers and White House officials. "We need to view children with chronic illnesses as more than just sick kids, rather see them as having the potential to make a positive impact on society."
Krishnan's project is the first of its kind in a children's hospital setting and is part of a pilot project, which includes two units. It complements the Children's Hospital's school program, which includes tutoring and academic enrichment.
"Gokul Krishnan represents a unique blend of innovative thinking about education and an altruistic desire to help children facing health challenges," Camilla Benbow, Rodes and Patricia Hart Dean of Education and Human Development, said. "We are proud of his contributions to the maker movement and especially excited to see him recognized by the White House."
Watch a video of Krishnan's talk at the White House briefing.
Watch a video of the full briefing.
Watch a video about Gokul Krishnan and his makerspace.