Media Inquiries
Latest Stories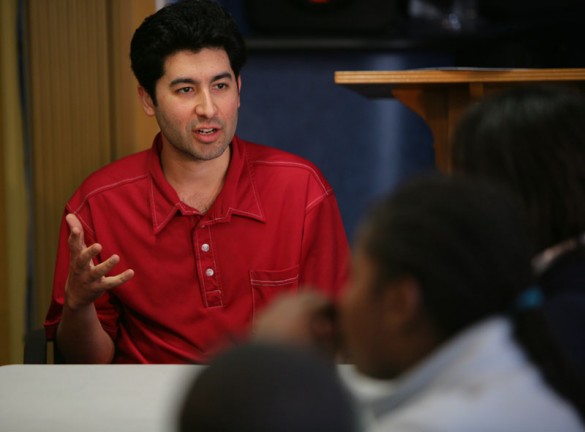 Keivan Stassun considers mentoring students the most rewarding aspect of his job. (Daniel Dubois / Vanderbilt)
Professor of Astronomy Keivan Stassun is one of four individuals who INSIGHT into Diversity magazine has selected to receive its 2015 Diversity Visionary Awards.
Stassun and the other honorees were nominated by colleagues and selected by the INSIGHT staff.
"This is the only national individual honor in higher education of its kind," said INSIGHT Publisher Lenore Pearlstein. "It is being presented to Dr. Stassun as a tribute to his past and present contributions, future vision, dedication and long-term commitment to diversity and inclusion. His tireless work on behalf of the university has made a tremendous impact on diversity and inclusions programs, initiatives and successes throughout your campus."
The awards were announced in the June issue of the magazine. The profile that appears in the issue reads "Dr. Keivan Stassun is a talented scientist, mentor and teacher with an impeccable track record and an excellent work ethic and reputation. His leadership as an outstanding mentor is evidenced by the fact that, together with his students, he has made foundational discoveries in astronomy and astrophysics while ensuring broad participation of underrepresented minority students in those and other STEM disciplines. His efforts demonstrate that excellence and diversity go hand in hand."
The profile goes on to describe the success of the Fisk-Vanderbilt Masters-to-Ph.D. Bridge Program that Stassun co-directs, which has achieved the distinction of becoming the nation's top awarder of Ph.D.s in astronomy, materials science and physics to underrepresented minority students in just five years. It also recognizes his efforts to make the Fisk-Vanderbilt bridge program into a national model for other schools such as Massachusetts Institute of Technology, Columbia University and the University of Michigan.
INSIGHT into Diversity is the oldest and largest diversity magazine and website in higher education today. For nearly 40 years, it has connected potential employees with institutions and businesses choosing to embrace a workforce reflective of local and national communities.