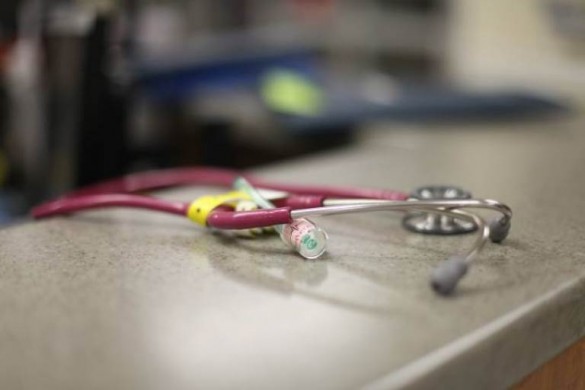 Stethoscope (Vanderbilt)
Shift changes and movements of patients between different parts of a hospital are vulnerable times when mistakes are made, and a study from Vanderbilt University offers suggestions to offset the risk.
"Our study shines a light on how easy things can get lost in the shuffle when work crosses organizational boundaries," said Timothy J. Vogus, associate professor of management at Vanderbilt University's Owen Graduate School of Management. He did the study in collaboration with Brian Hilligoss, assistant professor of health services management and policy at the College of Public Health at The Ohio State University.
The study, Navigating Care Transitions: A Process Model of How Doctors Overcome Organizational Barriers and Create Awareness, is available online at the Medical Care Research and Reviewwebsite. The authors studied transitions from an emergency department to inpatient units through a two-year ethnographic study of an academic medical center.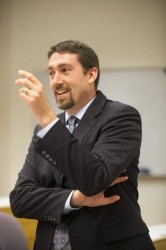 "The hospital is a dynamic, adaptive complex system of moving, interacting parts," Vogus and Hilligoss write. "It is in a constant state of flux. Consequently, awareness at any given moment is fleeting. … Importantly, doctors not only worked to improve their own awareness, they also took actions directed at enabling others to have an accurate, up-to-date awareness."
The researchers found doctors spend precious time "clarifying, monitoring and updating" the status of patients to keep themselves and other medical staff updated on patients.
"Concerns about safety justify the time spent, but these efforts represent a tradeoff whereby there is less time to devote to the central activities of patient care and making systematic improvements that might foster more learning as well as higher quality, safety and reliability," Vogus and Hilligoss write.
The authors offer suggestions to improve information-sharing:
– Developing better protocols and work designs with the goal of keeping everyone aware of changes to patient status during care transitions.
– Specifying or hiring a central coordinator to manage interconnections among hospital units.
– Upgrading pager systems to more advanced models that can read bar codes and link automatically to patient's charts.
– Have doctors make "inter-unit rounds," or rounds of units where they don't work, so they maintain relationships and understand the operating rhythms of units with which they interact.
The authors suggest further research should look at the work done by nurses and other clinical staff to maintain awareness of patient status as they are moved about hospitals, and generate suggestions for how those workers and processes might improve.