Media Inquiries
Latest Stories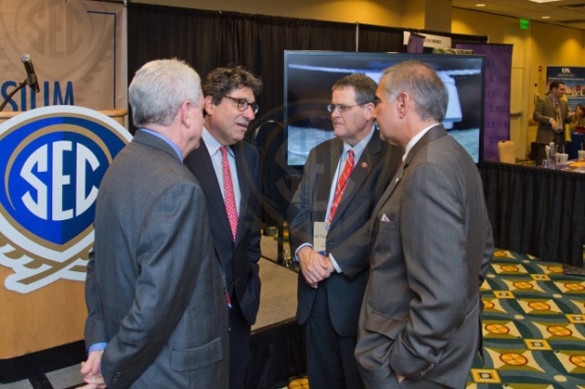 Vanderbilt faculty will join colleagues from the other 13 Southeastern Conference universities for a symposium titled "Creativity, Innovation and Entrepreneurship: Driving a 21st-Century Economy" Sept. 20-22 at the Hyatt Regency Atlanta.
The annual SEC Symposium, now in its third year, was created at the suggestion of Chancellor Nicholas S. Zeppos to showcase the conference's academic excellence and the educational and economic contributions of SEC members. Zeppos is the current chair of the SEC's presidents and chancellors.
"When they voted to establish the SEC Symposium, the SEC presidents and chancellors made it clear that it should always include faculty and administrators from every league university," said Torie Johnson, executive director of the SEC's academic initiative. "In three years, we've met that expectation and showed that SEC schools have a powerful voice on these issues of global significance."
The 2015 SEC Symposium will explore the university's role in preparing individuals to be creative, innovative and entrepreneurial thinkers and will evaluate the ways universities serve as drivers of economic development.
David Owens, professor of the practice of management and innovation and professor of the practice of engineering management, is representing Vanderbilt on the symposium's advisory board and will present at the conference. Alan R. Bentley, assistant vice chancellor for technology transfer and enterprise development; Donald Brunson, assistant dean of the Graduate School, and Melissa Gresalfi, associate professor of mathematics education, are also scheduled to present.
Topics will range from building relationships in creativity to the economic impact of university innovation to building innovation partnerships across disciplines. The SEC Symposium will be divided into five sessions of formal presentations and will include informal breakout sessions intended to foster interaction and discussion among participants and attendees.
In addition to university participants, there also will be three keynote speakers. Sunday, Sept. 20, will feature a keynote address by Liz Lerman, the 2002 MacArthur "Genius Grant" Fellow and 2011 United States Artists Ford Fellow in Dance. Don Millard, acting division director of engineering education and centers at the National Science Foundation, will speak on Monday, Sept. 21. The final day of the SEC Symposium will include a keynote address by Tony Boccanfuso, executive director of University-Industry Demonstration Partnership at the National Academies.
The SEC Symposium is an academic conference-type event that also includes the SEC Presidents, Chancellors and Provosts Reception, student activities and the SEC University Showcase. To learn more about the SEC Symposium and to view the full list of university presenters, visit www.secsymposium.com.