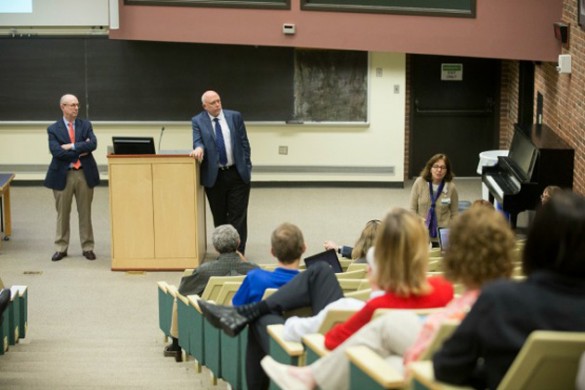 Vanderbilt faculty, staff and students came together at three town hall meetings this month to learn more about and provide feedback on the implementation of the Academic Strategic Plan. The plan, which has three phases—vision, action and impact—is nine months into the "action" phase.
"The university is on the move, with quality faculty, quality staff and quality students," said John Geer, vice provost for academic and strategic affairs and one of four academic leaders charged with leading the action phase. "The academic strategic plan is the map to our future and the action phase will be a multiyear undertaking. We've only started a handful of the initiatives."
Cynthia Cyrus, vice provost for learning and residential affairs; Bonnie Miller, associate vice chancellor for health affairs; and Larry Marnett, associate vice chancellor for research, are co-leading the action phase with Geer.
Geer provided an overview of priorities for the next fiscal year in support of the plan's four pillars—the undergraduate residential experience, trans-institutional programs, educational technologies and health care solutions. The fiscal year priorities were identified as part of the three-year road map for the strategic plan developed at a Feb. 3 faculty retreat. They are:
Supporting Opportunity Vanderbilt and College Halls;
Continuing to implement the Trans-Institutional Programs, or TIPs, grant program;
Strengthening partnerships among existing learning technology resources, including the Vanderbilt Institute for Digital Learning, the Center for Learning and Teaching, and the Heard Library system; and
Establishing the Health Care Task Force to inventory existing centers and institutes.
Geer noted that greater investment in graduate education is also important and will be critical going forward, especially in the search for a new permanent dean of the Graduate School that will begin in the coming months.
The discussion included an overview of the plans for a new round of internal grant support for trans-institutional programs: Vanderbilt Initiative Awards, which provide seed funding of $100,000 or less over one or two years to incubate ideas; and Vanderbilt Reinvestment Awards, which support current centers and institutes by pushing them to the next level and expanding existing collaborations. Funding for proposals submitted under these programs will be announced by June 15 and will begin July 1.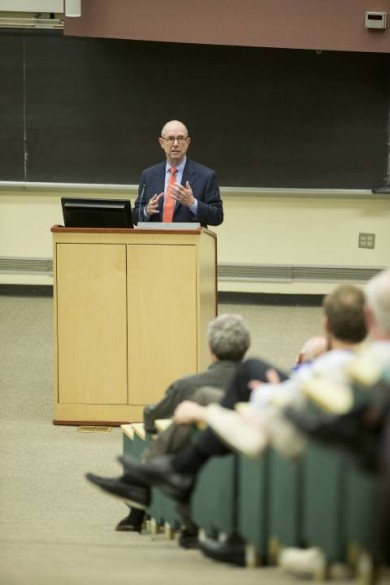 The Trans-Institutional Programs, or TIPs, grants program, launched in November, is designed to encourage multidisciplinary approaches to new ideas or emerging challenges and represents $50 million in investment over the next five years. In addition, the Chancellor's Faculty Fellows program, launched in February, awarded 15 newly tenured faculty members from across the university $40,000 a year for two years to support innovative research, scholarship and creative expression that will further propel their careers.
In the area of educational technologies, Cyrus shared the findings of a campuswide survey of all teaching faculty on educational technology, in which respondents reported that they learned best about new technologies from other faculty members and their students and that they were pleased with the outcomes supported by the new technologies, which include MOOCs, YouTube videos and simulations. They also stressed that educational technology is a tool for teaching, not the goal of teaching.
"The campus will be turning its attention back to some big investments in technology over the next two years," Cyrus said. "That includes a more collaborative model for support of technology in the classroom, but it also includes new 'splash initiatives' instigated by departments and schools. Stay tuned for more details."
In relation to the health care solutions pillar, a task force is being assembled that will inventory all current health care-related interdisciplinary centers and institutes and will also prioritize and refine the initiatives outlined in this area of the strategic plan.
And in support of enhancing the residential undergraduate experience, two key initiatives, Immersion VU and cross-college teaching, are underway.
"The immersion experience needs to be vigorous, faculty-guided and produce something memorable," Geer said. "That product may or may not be related to the student's major." Examples include internships, faculty-supported research, service projects, study abroad, capstone projects or a senior recital. Next steps are to further define immersion experiences, build bridges across schools, integrate key resources and develop an infrastructure to support the initiative.
In relation to cross-college teaching—which is teaching outside a faculty member's home department or co-teaching across departments—the committee is working on identifying barriers that may stymie faculty efforts to teach across colleges, identifying opportunities for more cross-college teaching, and exploring incentives and possible new approaches.
The timetable for implementation was also developed in large part at the Feb. 3 faculty retreat. At the retreat, 40 faculty from all corners of campus spent a day deliberating on priorities and timing of the many initiatives that define the strategic plan. The results of this retreat were presented during the town hall meetings.
Read more about the Academic Strategic Plan at vanderbilt.edu/strategicplan. Submit input or volunteer for a working groups using the feedback form on the plan website.