Media Inquiries
Latest Stories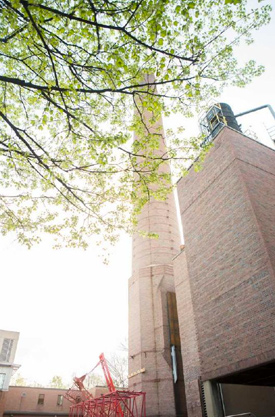 Four months after the Vanderbilt power plant burned off its last lump of coal and transitioned to all natural gas, the demolition of the iconic smokestack will soon get underway with the assembly of an enormous crane that will "eat" the structure away.
The demolition work will take place between the hours of 8 a.m. and 4 p.m. and is expected to last five to seven weeks, concluding in early June.
There will be some disruption to traffic and parking, including deliveries around Sarratt Student Center/Rand Hall, Buttrick Hall, the Bishop Joseph Johnson Black Cultural Center, the Vaughn Home and the Bryan Building. Hans Mooy, an architect and construction manager with Campus Planning and Construction, the department overseeing the power plant renovation, says it should not affect most people and that those who are directly affected have been alerted and provided with alternate arrangements.
In addition, there will be ample signage re-directing pedestrians and vehicles around the site, as well as signs directing Sarratt visitors who use the ADA-accessible entrance near Sarratt Cinema.
Work will cease during the exam period and Commencement day.