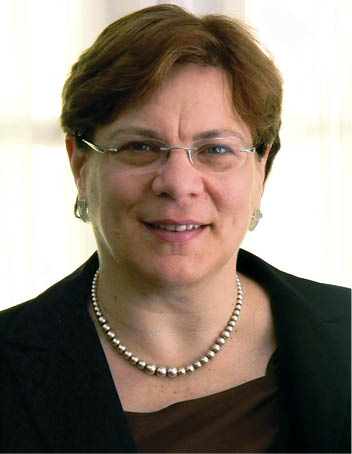 Lauren A. Benton, a distinguished administrator and influential scholar in international legal history, has been named dean of the College of Arts and Science, effective July 1. Benton is Silver Professor of History and affiliate professor of law at New York University, where she currently is dean of the Graduate School of Arts and Science.
"Laurie exemplifies excellence as an intellectual leader," said Chancellor Nicholas S. Zeppos in making the announcement. "During her time at NYU, she has focused on strengthening the faculty through hiring and retention, addressing systemic issues, and strengthening connections across the university."
"I'm excited to be coming to a university with such a strong commitment to innovative academic programs spanning schools," Benton says. "My own scholarship is highly interdisciplinary, and I have worked consistently to reduce institutional barriers to collaborative research and teaching."
Benton's selection was the result of a national search led by Vice Provost for Academic and Strategic Affairs John Geer and a search committee. She will be appointed to a five-year term as dean and hold an endowed chair as a tenured faculty member, according to Susan Wente, provost and vice chancellor for academic affairs, pending approval of the Vanderbilt University Board of Trust.
"Laurie understands that faculty are the foundation of any department or institution," says Wente. "She has a proven track record of working with them to build stronger programs that better serve faculty, undergraduates and graduate students."
After earning her undergraduate degree in economics at Harvard University in 1978, Benton became Johns Hopkins University's first recipient of a joint Ph.D. in anthropology and history. After appointments at Massachusetts Institute of Technology, the University of Washington and Rutgers University, Benton was recruited to NYU in 2003 as professor of history. She eventually served in key administrative leadership positions, including chair of the history department, dean for humanities, and dean of the graduate school.
Benton's publications focus on the Atlantic world and the legal history of empires. She is the author or co-editor of five books, including A Search for Sovereignty: Law and Geography in European Empires, 1400–1900 (2009, Cambridge University Press). Her book Law and Colonial Cultures: Legal Regimes in World History, 1400–1900 (2001, Cambridge) was awarded the J. Willard Hurst Prize and the World History Association Book Prize.
Benton will move to Nashville with her husband, Eduardo Garcia, a Spanish language interpreter who was born and raised in Uruguay.
---