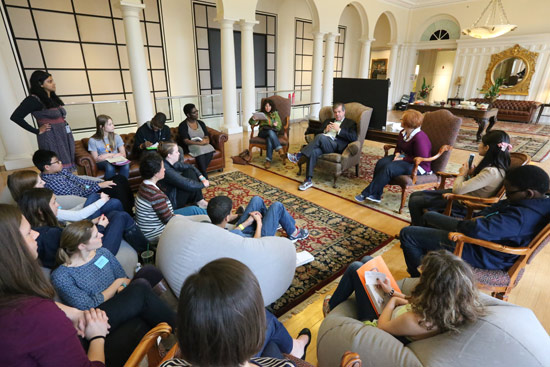 Nashville Mayor Karl Dean discussed the joys of reading with Metro Nashville Public School fifth, sixth and seventh graders at the March 14 meeting of Patterson RAPS (Read and Play Saturdays) held at the Wyatt Center on Vanderbilt's Peabody College campus.
Patterson RAPS is a free program for MNPS middle school students who live in the neighborhoods surrounding Vanderbilt. Funded by a gift from best-selling author and Vanderbilt alumnus James Patterson, MA '70, the program's mission is to instill a love of reading in participants.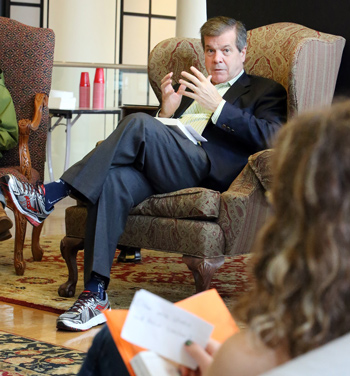 The program entails each Patterson RAPS student receiving copies of selected books to add to his or her personal library. When the students convene on campus several Saturdays each month from September through May, they begin by reading that month's selection aloud as a group. Then, once they are hooked, the students are turned loose to read silently, in pairs or with a Vanderbilt student volunteer. The remainder of the morning is devoted to engagement activities—such as art projects, independent writing and hands-on experiments—to further engage the young readers with the books and provide lessons on character, plot and setting.
To learn more, visit the Patterson RAPS website.
Patterson RAPS announces 2015 Summer Camp
Patterson RAPS is now accepting applications for its 2015 Summer Camp. Rising sixth through eighth graders are encouraged to apply. The camp will take place June 22-26 from 9 a.m. to noon each day at the Wyatt Center.
Contact: Melanie Hundley, (615) 322-8100
melanie.hundley@vanderbilt.edu