Media Inquiries
Latest Stories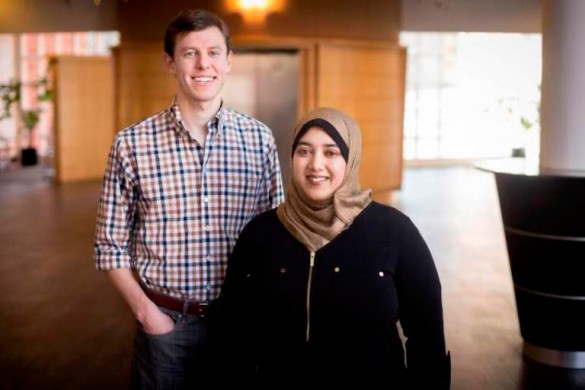 The student co-founders of a language-learning platform called Boomalang have been awarded the 2015 Sohr Grant, which gives $25,000 each year to business school entrepreneurs from Vanderbilt University's Owen Graduate School of Management.
Chris Gerding (MBA 2015) and Leiya Hasan (MBA 2015) began working on the idea after they were paired up in a class on entrepreneurship. Boomalang matches language learners of similar interests and backgrounds, like age, profession or hobbies, in different countries. The app then facilitates the logistics of setting up video chats that are designed to enhance language skills and protect user privacy.
"It's similar to having an international pen pal, only now in the Internet age, with a focus on speaking," said Hasan, who previously worked for an education technology startup in Dallas. "Think of it like Match.com meets Skype, coupled with a gamified language-learning app like Duolingo."
Gerding originally began thinking about the idea after leaving a New York advertising agency to attend business school in 2013. He spent the summer prior to starting his MBA at a language-immersion program in Costa Rica, where he frequently met with native Spanish speakers (who were learning English) who shared similar interests.
Once Gerding and Hasan developed the core of their idea, they turned to Nashville's growing startup network. Last summer, they participated in JumpStart Foundry and have since tapped marketing, technology, finance, legal and strategy expertise through the Nashville Entrepreneur Center.
"It has been fantastic to watch how Owen, the wider Vanderbilt community and Nashville's startup network have all played an important role in this startup and many others like it," said M. Eric Johnson, Ralph Owen Dean and Bruce D. Henderson Professor of Strategy at the Owen School. "I applaud Chris and Leiya for their hard work, as well as alumnus Jim Sohr and his wife Leah, for helping encourage a new generation of entrepreneurs."
Germain Böer, emeritus professor and director of the Owen Entrepreneurship Center, congratulated the Boomalang team on winning this year's award.
"The thing about this team that impressed the judges is the progress they made in developing their company over the past year," Böer said. "They worked with their mentors, talked to universities (United States and Central and South American) and built a mockup of their smartphone product. They came a long way in the past year, and that persistence and drive is what got them the grant."
Jim Sohr, BE'86, MBA'90, and his wife, Leah, endowed the grants in 2011. Sohr is the past president and co-founder of AIM Healthcare Services, which provides claims cost-management services for government and commercial payers of health care benefits. A division of UnitedHealth Group purchased AIM in 2009.
Past Sohr Grant winners:
2012: Mario Avila, Megan Allen and Ian McCollum
2013: Baxter Webb and Enoch Sizto
2014 Kramer Schmidt