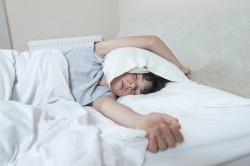 March has been designated National Sleep Awareness Month. One part of sleep awareness is knowing how our sleep may be affected by changes in the environment.
Most of the United States returns to Daylight Saving Time beginning at 2 a.m. local time on Sunday, March 8. As we spring forward and advance our clocks one hour, it is important to consider how this small change can affect our sleep.
Moving our clocks, watches, and cell phones in either direction changes the principal time cue—light—for setting and resetting our 24-hour natural cycle, or circadian rhythm. This makes our internal clock out of sync with our current day-night cycle.
In general, "losing" an hour in the spring is more difficult to adjust to than "gaining" an hour in the fall.  An "earlier" bedtime may cause difficulty falling asleep and increased wakefulness during the early part of the night.
If you have insomnia or are sleep-deprived already, you could experience more difficulties. In this situation, you could see decreased performance, concentration and memory during the workday, which is common to sleep-deprived individuals.  You also may experience fatigue and daytime sleepiness. All of these are more likely if you consume alcohol or caffeine late in the evening.
In general, people adjust to the change in time within a few days. You can help this by decreasing exposure to light in your home during the evenings, exercising, trying to have a consistent sleep schedule, and reducing or eliminating alcohol and caffeine.
To learn more about getting a better night's sleep, visit the Vanderbilt Health and Wellness Resource Library to read about sleep.
You can also listen to a Wellcast for information on addressing insomnia.
To learn more about work-life balance, visit the Faculty and Staff Health and Wellness website.