Media Inquiries
Latest Stories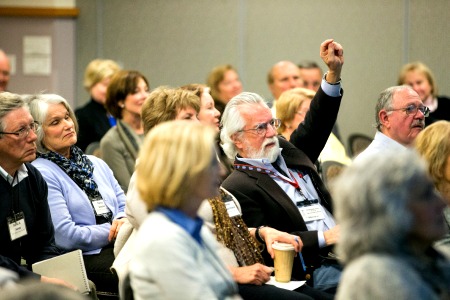 Vanderbilt's Osher Institute offers a stimulating but relaxed environment for lifelong learners (Joe Howell/Vanderbilt University)
A diverse set of topics, including religions and extraterrestrial life, understanding America through food, and Henry Kissinger as celebrity diplomat, are core classes offered by the Osher Lifelong Learning Institute at Vanderbilt for spring 2015.
Beginning March 9, "Palettes, Portraits and Personalities: The Life and Adventures of a Portrait Painter," will be led by portrait artist Michael Shane Neal. The class meets at St. George's Episcopal Church for six Mondays from 9:30 to 11:30 a.m. Shane will share personal experiences of painting some of his prominent clients.
Two classes meet for six Tuesdays, starting March 10, at The Temple: "Pre-World War II Blues Recordings: An Aural and Visual Survey" and "Food for Thought: Understanding America through Food." Dave MacKenzie, a Nashville guitarist and Blair School instructor, is teaching the course on the blues from 9 to 10:45 a.m. Students will listen to 200-300 recordings made between 1920 and 1942, encompassing every major African-American style of blues, urban and country music.
Susan Kevra, senior lecturer in French, will teach the other Tuesday class, which focuses on the history of eating in America and current food trends and challenges. Kevra's class meets from 11 a.m. to 12:15 p.m.
Two classes meet for six Wednesdays, starting March 11, at the Commons Center: "From Romantic Poetry to the Writings of the Beat Generation" and "Religions, Exoplanets, and Extraterrestrial Life." Robert Barsky, professor of French and comparative literature, will explore the influence that romantic poets, such as William Blake, William Wordsworth, Lord Byron and others had on the Beat Generation poets and writers.
Barsky's class, which meets from 9:30 to 10:45 a.m., is followed by a look at what would be the impact of evidence of life on other planets on various religions. Professor of Astronomy David Weintraub is teaching the second class on Wednesdays from 11 a.m. to 12:15 p.m.
Two classes meet for six Thursdays, starting March 12, at the Commons Center: "Henry Kissinger: America's First Celebrity Diplomat" and "The Meaning of Modern Art." Professor of History Thomas Schwartz will teach the course on Kissinger, arguably the most influential American diplomat of the 20th century, from 9:30 to 10:45 a.m.
Schwartz's class will be followed by one with Leonard Folgarait, professor of history of art, on important episodes in the history of modern art. The modern art class meets from 11 a.m. to 12:15.
Two classes meet for six Fridays, starting March 13, at West End United Methodist Church. "Intellectual Sampler" offering a sampling of concepts from multiple disciplines, including music, literature, history and science, meets from 9:30 to 10:45 a.m. The second class, "Enhancing Your Conflict Competence," will be taught by J. Thomas Laney, associate director of the Turner Center for Church Leadership at Vanderbilt Divinity School. The course is designed to help participants gain more confidence in their capacity to work through conflict productively.
The Osher non-credit classes are geared toward those 50 and older, according to Norma Clippard, program director. The program fee of $80 enables participants to sign up for up to three of the core classes listed above. The charge for each additional core course is $10.
"We are excited to offer several special classes this spring, including a three-part series with Nashville Ballet Artistic Director and CEO Paul Vasterling, company dancers and artistic staff," Clippard said. "In addition, Osher students can 'cruise to the islands' by joining the Osher Steel Drum Band for seven sessions on Sunday afternoons with the Blair School's Mat Britain." Other special offerings, all of which require an additional fee, include "Financial Strategies" and "Great Decisions."
To enroll or find out more information about the classes, visit the institute's website or contact Norma Clippard  at (615) 322-5569.