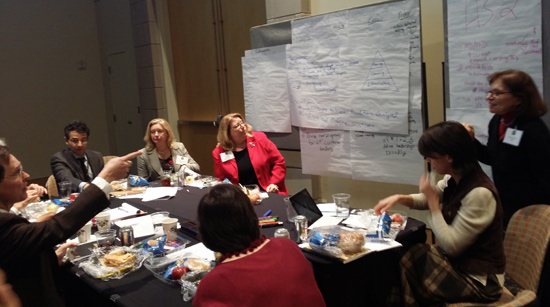 Developing a three-year roadmap for the implementation of the Academic Strategic Plan was the aim of a one-day faculty retreat held Feb. 3 at the Student Life Center.
Chancellor Nicholas S. Zeppos, Vice Chancellor for Health Affairs Jeff Balser and Provost and Vice Chancellor for Academic Affairs Susan Wente invited a group of faculty members to participate in the retreat. More than 40 faculty representing all of the university's colleges and schools participated.
"[rquote]We feel strongly that the Strategic Plan and its vision should be continually guided by the insights of our world-renowned faculty.[/rquote] While a number of initiatives are well underway, we rely on faculty input as we continue to prioritize projects and set a timeline for implementation," Balser and Wente wrote in the invitation.
Vice Provost for Academic and Strategic Affairs John Geer, Vice Provost for Learning and Residential Affairs Cynthia Cyrus, and associate vice chancellors for health affairs Lawrence Marnett and Bonnie Miller led the retreat. Lynn Webb, assistant dean for faculty development in the School of Medicine, served as facilitator.
During the retreat, faculty members worked together to analyze initiatives identified in the Strategic Plan with an eye on the following:
Prerequisites for implementation;
Timeline for implementation;
Level of priority; and
Impact on advancing the "One Vanderbilt" vision.
Faculty were divided into groups based on the four pillars of the strategic plan: trans-institutional programs, health care solutions, the undergraduate residential experience and education technologies.
The groups identified which initiatives were more "foundational" in nature and deserved to be given first priority.
The retreat leaders will be synthesizing all of the groups' suggestions and building a roadmap that will guide planning over the next three years.