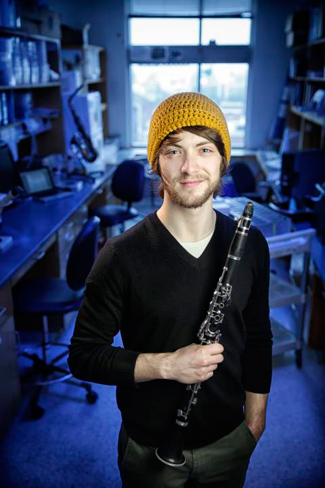 Sometimes two seemingly different subjects are more related than they may seem. For undergraduate Brian Cooper, music is just as important as science. They're two sides of the same coin.
The Blair School of Music senior from San Carlos, California, majors not only in musical arts (clarinet), but also in bioinformatics, an interdisciplinary major combining biology and computer science that he designed with the help of Antonis Rokas, Cornelius Vanderbilt Professor of Biological Sciences. The reason Cooper chose Vanderbilt for his undergraduate work was because it afforded him the opportunity to major in both.
"I didn't want to quash either passion," Cooper says. "Vanderbilt was the only place I could do both at a high level and receive support."
At home in the San Francisco Bay area, his parents both work in computer programming. "I grew up with dinner conversations in C++ and Java," he jokes. But his path to discovering bioinformatics came about through his interests in the arts.
"I joined Tongue 'N' Cheek (Vanderbilt's student improvisation group), and the director was a graduate student in computer science working on biomedical informatics," says Cooper. "[rquote]It's interesting that the main seed (for creating my bioinformatics major) came about through improv."[/rquote]
Cooper designed his interdisciplinary major with the sponsorship of Rokas, who ultimately had a spot open in his lab for the undergraduate. The Rokas Lab's primary research involves evolutionary genomics, which is a direct application of bioinformatics that involves comparing large amounts of genetic data within Vanderbilt's super-computing cluster ACCRE (the Advanced Computing Center for Research and Education). Cooper first was tasked with formatting genomes that are publicly available and sequenced by a number of institutions into similar arrangements within the relational database to make the information easier to use. After the Rokas Lab received a grant from the March of Dimes to investigate the genetic basis for preterm birth, Cooper's work shifted to developing a tool that would allow all the institutions collaborating on the grant—most are centered in Ohio and called the Ohio Colloborative, but include several labs at Vanderbilt within the Departments of Biological Sciences in the College of Arts and Science and Biomedical Informatics at the Medical School—to look at the same problem from multiple angles. The tool he developed is called GeneStation, based on the word gestation.
"The data is structured around the concept of a gene," Cooper explains. "Follicle stimulating hormone receptor is a gene of interest in recent preterm birth research. I could go to the tool, and it would guide me to papers in different areas, both clinical and academic, translating all the information on this one gene to show how these areas relate.
"This is one facet of bioinformatics," he says. "You're trying to pull in data from a lot of disparate sources, allowing the user to come to conclusions through a large amount of data that can only be dealt with through computational means."
He can see where music and his current scientific research are also related.
"The main point of the tool I'm creating for the March of Dimes collaborative is to synthesize research by people who are specialists in various fields on a similar topic—who may speak very different technical languages—to gather a larger picture of what's going on regarding preterm birth. I'm trying to get (the tool) to be concise, to the point, and not inundate the person who's using it with too much data.
"That's relatable to what I'm learning at Blair in composition and in improvisation. Music is about communication," says Cooper, "not just communicating with your audience, but also with other musicians on a stage, moving in time within the same parameters."
For a complete listing of the Ohio Collaborative, visit prematurityresearch.org/ohiocollaborative/main/meet-our-researchers.