One second it shows a flat piece of paper, the next a 3-D model of Vanderbilt University's new Engineering and Science Building springs up on the screen of your smartphone.
It's possible due to an augmented reality app and the work of a School of Engineering graduate student.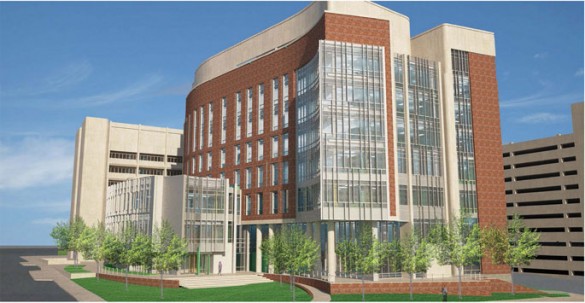 The idea of creating a 3-D virtual model of the building currently under construction near Vanderbilt's Olin Hall started with the School of Engineering's communications team. They proposed it as an innovative way to showcase the building instead of holding a traditional groundbreaking. The concept was endorsed by other university communicators and approved by Provost Susan Wente and School of Engineering Dean Philippe Fauchet, who made the project the focus of the School of Engineering's annual New Year's card.
Christopher Rowe, director of engineering communications and associate professor of the practice of engineering management, spearheaded the project. He worked with Meng Wang, a graduate student in computer science, who converted the CAD model created by the building's architects into a format that could be read by Augment, a free smartphone application that is easily downloaded to a viewer's phone.
The result is an interactive, high-tech rendering that shows the building's exterior and design in 360-degree detail.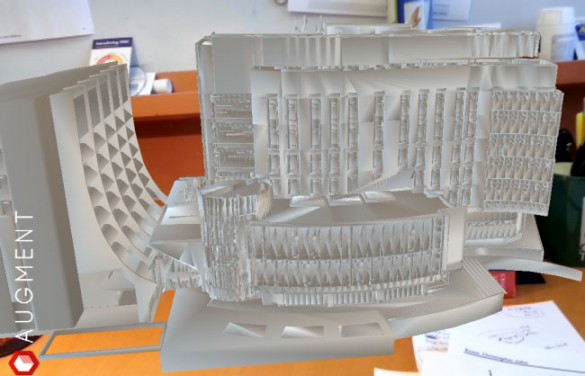 The majority of the 230,000-square-foot, seven-story Engineering and Science Building is expected to be completed in the summer of 2016. When finished, it will be one of the largest interdisciplinary buildings on campus and will house a cleanroom, an Innovation Center and other specialty tech spaces.
Print your own sketch,  download the Augment app and see the building.