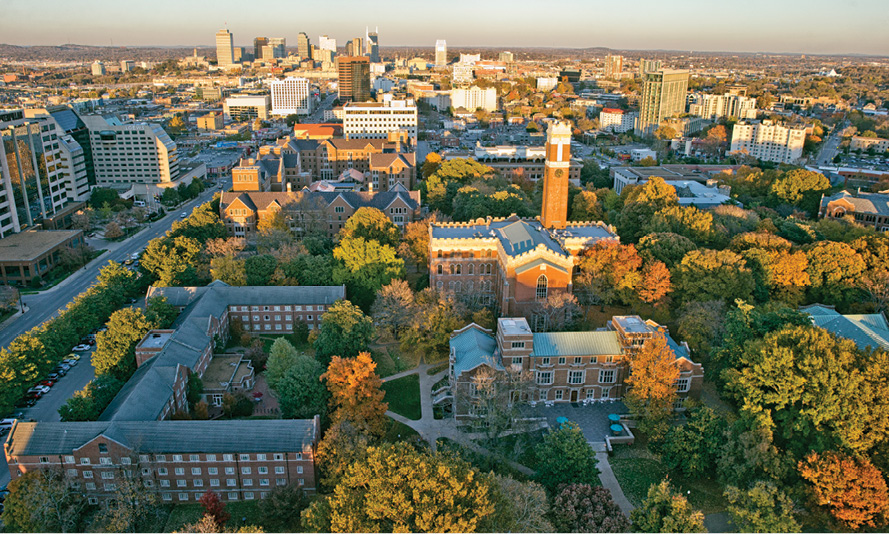 For years now, we've wanted to include a profile of Amy Grant in Vanderbilt Magazine. Phillip Tucker, our associate editor and one of the singer's most fervid fans, has long lobbied for an Amy story—but somehow, given the entertainer's demanding schedule, the timing was never right for us to arrange an interview until recently.
While we were choosing photos for the story, two of my female colleagues happened by my desk. They stopped in their tracks when they spotted Amy's image, bigger than life, on my computer screen.
"Is that a recent photo?" they demanded in unison.
Yes, the photos are recent. Yes, she is gorgeous. We're thrilled and grateful that Amy, a hometown girl, and her famous husband, Vince Gill, have made the young patients of Monroe Carell Jr. Children's Hospital at Vanderbilt a priority in their busy lives.
Our Amy Grant story is one of several in this issue with a Nashville flavor. Ann Marie Deer Owens' cover story, "Beloved Community," showcases Vanderbilt Divinity School graduates who've played a significant role in developing and leading local nonprofit organizations that have an impact on the quality of life for all Nashvillians.
Vanderbilt is drawing many students from all over the map these days, and plenty of them who aren't originally from the South are choosing to stay here after graduation. They're having a huge impact on their adopted city. Karl Dean, JD'81, Nashville's current mayor, and his predecessor, Bill Purcell, JD'79, are two prominent examples of Vanderbilt students who came from other parts of the country and decided to stick around.
Journalist, author and historian Jon Meacham, whom we interviewed in our Winter 2014 issue as Distinguished Visiting Professor of Political Science, recently spoke before the Nashville Area Chamber of Commerce's annual meeting. Nashville, he said, is currently enjoying its "golden hour," and one of the key reasons he cited is its leaders, who understand the dynamics of politics and commerce. "There are politicians who understand that moderation and civility are smart, tactical and strategic weapons," Meacham said.
If you don't believe Jon Meacham or me, drive down Nashville's once-blighted Gulch or Lower Broad—the section of Broadway that cuts through the heart of downtown—the next time you're in Nashville. The transformation is astounding.
"Somewhere in France," this issue's photo essay, takes readers farther afield but has its origins with a Nashville of long ago. Although nursing was one of a relatively few vocations available to women in 1917, it wasn't considered entirely respectable in that era. I wonder what the parents of those Nashville nurses who joined Vanderbilt doctors in forming Vanderbilt Hospital Unit "S" had to say when their daughters announced they were headed to France to aid soldiers wounded in the Great War.
Finally, we're excited to share a firsthand account of Rosevelt Noble's labor of love, "Lost in the Ivy," an ambitious ongoing effort to document the history of African Americans at Vanderbilt.
The last issue of Vanderbilt Magazine generated more letters than we've received in some time. I hope that's the start of a trend. Let us hear from you.
—GAYNELLE DOLL, EDITOR
---