Spend Tortellini Tuesday with the provost at Rand Nov. 18
by
Melanie Moran
Nov. 14, 2014, 8:57 AM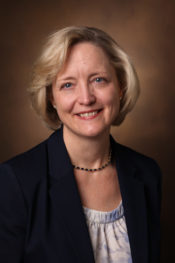 Provost and Vice Chancellor for Academic Affairs Susan R. Wente will serve some of her family's favorite dishes to students at Lunch Paper in Rand Hall during a special Tortellini Tuesday Nov. 18 from 5 to 7 p.m.
Lasagna, eggplant parmesan and tiramisu will be featured on the menu at Lunch Paper. Students are encouraged to stop by, enjoy an Italian dinner, and visit with the provost. The meal will count as a regular meal plan meal. Normally scheduled meals, including tortellini, will continue to be served in the other areas of Rand. All members of the community are welcome.
Wente was appointed to her current role by Chancellor Nicholas S. Zeppos in July 2014. During academic year 2013-14, she co-chaired the executive committee of the university-wide academic strategic plan and is currently co-directing its implementation. Wente is the university's chief academic officer with responsibility for academic programs as well as student affairs, housing, admissions and financial aid and research.
Wente is a professor of cell and developmental biology. Her work studying the mechanism for highly selective, bidirectional exchange of proteins and genetic material between the nucleus and cytoplasm has been nationally recognized.