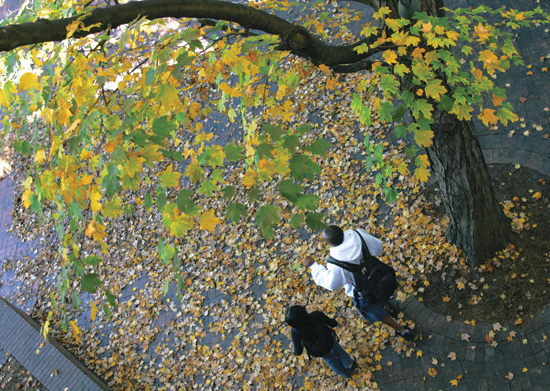 The Vanderbilt campus is 330 acres in the heart of a major metropolitan city. Its lush, park-like setting boasts more than 6,000 trees and shrubs representing some 190 different species.
Anyone walking the campus today might find it hard to imagine that at its founding in 1873 on several tracts of farmland, the university had very few trees. Soon after convincing Cornelius Vanderbilt to contribute half a million dollars to found the university, Bishop Holland McTyeire began to shape the physical campus through a massive tree-planting campaign.
McTyeire supervised the planting of hundreds of small trees around what is now Kirkland Hall, the university's first academic building. He considered these plantings to have an educational purpose as well as an aesthetic one, reflected in the designation of the campus grounds as "the Arboretum" as early as 1878.
McTyeire's efforts—as well as those of many who followed—are celebrated in a new website, the Vanderbilt Arboretum. Through words and pictures, the site provides a detailed history of Vanderbilt's trees, information on different species and where they're located, blog posts chronicling individual experiences and reflections, mobile device-assisted tree tours, and more.
Steve Baskauf, senior lecturer in the Department of Biological Sciences and the Vanderbilt Arboretum's unofficial "communications coordinator," created an online campus tree tour in 2005 and regularly posts to social media about the trees of Vanderbilt.
"Since that time, I've been working to make the tree tours work on all kinds of devices, including smart phones, iPads and conventional computers," Baskauf wrote in a recent blog entry. "The main campus and Peabody tours are online now, we have started working on a 'trail of giants' tour, and eventually we plan to have a tour focused on history and another that winds through the medical center."
Baskauf said there is no app to download—simply open the uniform resource identifier (URI) for a tour or any tree on your device. Some tree labels have also been "modernized" with the addition of QR codes that allow users to scan a code on their phones to load a tree's webpage.
"We are excited about the ways that people can use technology to interact with the trees of the arboretum in interesting ways," he said. "However, it's still great to just turn all of the devices off and wander around enjoying the beauty of the trees, just like Bishop McTyeire did over 100 years ago."
Get updates on the trees of Vanderbilt on Facebook, or follow on Twitter @vutrees.