Media Inquiries
Latest Stories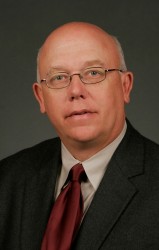 John Geer, a noted Vanderbilt University political scientist who teaches and writes about presidential politics, elections and negative political ads, will speak Oct. 1 at the Nashville Public Library. He will discuss "Negative Political Ads: Their Critical Role in a Democracy."
Geer, who is the Gertrude Conaway Vanderbilt Professor of Political Science and co-director of the Vanderbilt Poll, will be featured at Thinking Out of the (Lunch) Box: Conversations with a Philosophical Flair with David Wood.
Geer, who joined the Vanderbilt political science department in 1995, was recently named vice provost for academic and strategic affairs and will begin a term as interim dean of the Graduate School Jan. 1, 2015. He earned his doctorate at Princeton University and has published five books and more than 20 articles on presidential politics and elections.
In 2015, the third edition of Gateways to Democracy will appear in print. An earlier book, In Defense of Negativity: Attacks Ads in Presidential Campaigns, won the Goldsmith Book Prize from Harvard University in 2008. Geer has provided extensive commentary in the news media on politics, including live national interviews for FOX, CNN, NBC, CBS, MSNBC, ABC, PBS and NPR. Geer has also written op-ed pieces for Politico, The Washington Post, Los Angeles Times, USA Today and Chicago Tribune.
Thinking Out of the (Lunch) Box is hosted by David Wood, W. Alton Jones Professor of Philosophy at Vanderbilt and founder of the series.
Each talk begins with lunch in the Nashville Public Library's Conference Center at 11:30 a.m., with the talk taking place from noon to 1 p.m. No reservations are required for this event, which is free and open to the public.
A limited number of free lunches will be available starting at 11:30 a.m. A $5 donation is appreciated to help defray costs.
Thinking Out of the (Lunch) Box is sponsored by Friends of the Nashville Public Library.