Natchez Trace Parkway Association celebrates 80th birthday on campus
Sep. 24, 2014, 2:46 PM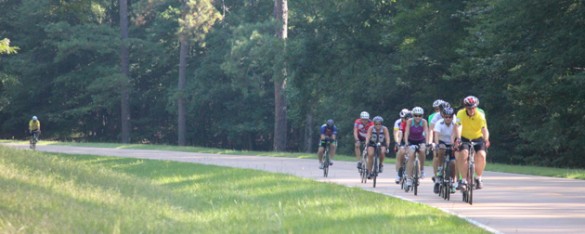 The Natchez Trace Parkway Association is celebrating its 80th birthday with an event on the Vanderbilt campus that will feature free bike repairs by staff from Green Fleet and free food samples from FitFood Revolution.
The event will be held from 4:30 to 6:30 p.m. Thursday, Sept. 25, on the sidewalk outside the Vanderbilt Recreation and Wellness Center off of 25th Avenue South.
The Natchez Trace Parkway is a three-state national park that begins 12 miles east of the Vanderbilt campus. The Tennessee portion includes a 28-mile section of national scenic trail.
A new program called Trail Fit will be introduced as part of the Sept. 25 celebration. Faculty, staff and students who hike and cycle will be encouraged to take advantage of the national park as a venue for outdoor exercise, and students will be invited to assist in development of the trail.
In addition, Green Fleet will offer free bike repairs; elite cyclist George Thomas of Race Across America will discuss cycling; physical therapist Dr. Brooks Tiller will demonstrate methods of packing backpacks for good back strength, as well as training for long hikes; and FitFood Revolution will introduce samples of Natchez Trace Trail Fuel, a new healthy trail mix blended for hikers and cyclists in the park.
For more about this free event, visit the Natchez Trace Parkway Association website.
Contact: Laura Osterman, (615) 322-6689
laura.osterman@vanderbilt.edu