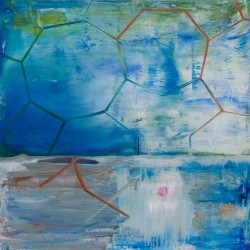 "The Gift: 30 Years of the Margaret Stonewall Wooldridge Hamblet Award" opens Thursday, Sept. 25, at Space 204 in the E. Bronson Ingram Studio Arts Center at Vanderbilt. An opening reception is scheduled from 5 to 7 p.m. Sept. 25. The exhibition is free and open to the public and will run through Dec. 5.
The exhibition will showcase works from previous recipients of the Hamblet Award, given annually to a graduating senior in Vanderbilt's Department of Art. The award was established in 1984 by Clement H. Hamblet in honor
 of his wife, whom he met while she was studying abroad. The Hamblet Award is meant to
 provide the means for travel and independent art activity for one year, culminating in an
 solo exhibition at Vanderbilt. The Department of Art added a merit award in 2002.
"The Gift" was curated by Saralyn Reece Hardy, the Marilyn Stokstad Director of the Spencer Museum of Art at the University of Kansas. The seven artists featured are past Hamblet Award winners Eric Erhnschwender, Jean Kang, Xin Lu, Kathryn McDonnell, Nicole Pietrantoni, John Powers and Hannah Stahl.
Space 204 is open Monday–Friday, 10 a.m.–4 p.m.
For more information, contact the Department of Art at (615) 343-7241 or martha.l.dale@vanderbilt.edu.