On the afternoon of Aug. 1, a cheerful crowd of nearly 100 people overflowed a small auditorium in the offices of Vanderbilt's Institute for Software Integrated Systems (ISIS) on Music Row.
The mixture of proud parents and siblings, casually dressed engineers and more formally dressed local dignitaries came to hear the final presentations of 25 local high school students and undergraduates who were finishing up a seven-week summer internship at ISIS.
"You will be amazed at what these students have achieved starting from ground zero," said ISIS Senior Research Scientist Ted Bapty in his welcoming remarks.
The undergraduates described how they decided to develop some applications for Google's new modular cell phone, ARA, which is scheduled to hit the market this spring. ARA will be significantly different from the dozens of look-alike mobile phones currently on the market because it is designed to accept a wide range of hardware modules – think speakers, cameras, batteries, screens, etc. – so customers can select the modules that best fit the way they use their phone. The two modules that the students developed were a glucose monitor and infrared remote controller.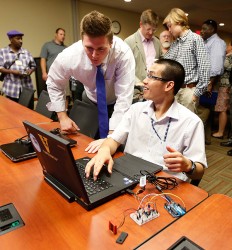 It was a natural choice for the students to make because ISIS has established a special relationship with the ARA project in the last year. For several years ISIS has been developing open-source software design tools for the Defense Advanced Research Projects Agency (DARPA) for the purpose of making the process of designing and building military vehicles faster, cheaper and more efficient. Google was looking for software that can aid third-party developers creating hardware modules for their new phone, so they approached ISIS about adapting these software tools for this purpose.
In order to do so, ISIS spun off a new start-up company called MetaMorph. "We have developed a hardware design tool kit for ARA that is in alpha release. It will probably be released to the public this fall," said Justin Knight, MetaMorph CEO, who attended the presentations. The MetaMorph development team worked closely with the students on their modules.
"The students hope that their modules will be some of the first that are available for the ARA phone when it comes out," said internship coordinator Brandon Knight, who is Justin's brother.
Representatives from Google observed the presentations virtually through Google's teleconferencing app Hangout. The only sign of their presence was a laptop set up on one of the tables in the front of the room.
The high school students decided they would address a different issue: bicycle safety. They used the software tools to design a set of LED safety lights, an LCD display screen and an onboard computer that allows bicycle riders to soup up their ride with a variety of sensors ranging from speedometers to video cameras to heart rate monitors. The safety lights include red brake lights and yellow turn lights that are fastened below the seat and a series of flashing colored lights that it in the spokes to make the bikes more visible to automobile drivers.
The Oasis Center Bicycle Workshop donated the bicycle that the students equipped and expressed interest in possibly marketing their devices.
"Organizing the internship around projects worked very well," Bapty observed afterward. "It forced the students to work extremely hard, especially when things went wrong at the last minute," he added with a smile that implied "just like real life."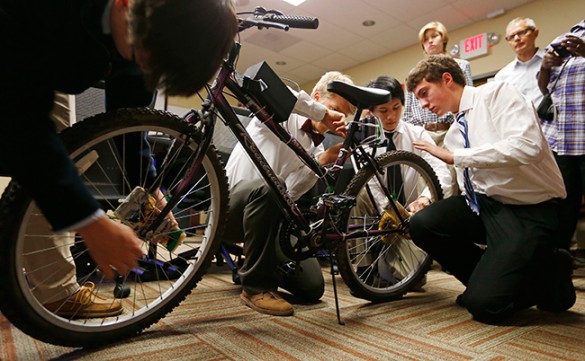 This is the third year of the internship, which is funded by the National Science Foundation.
The high school interns Sydney Bailes, Lucas Cauthen, Asha Elsberry, Johnathan Steward, Daniel Hong, Alex Staggs, Rebecca Hood and Nolan Gross were from Martin Luther King Jr. Magnet High School; Jack Utley and Bryce Johnson were from Stratford STEM Magnet School; and Zack Bapty was from Hume-Fogg High School.
The undergraduate interns Nate Bremer, Ryan Colletti, Connor McGowen, Geoffery Pettet, Hoang Phung Ly, Jason Bruce Stewart and Mariah Figlietti Vasquez were from Vanderbilt; Andres Garcia, Will Knight, Brandon Thomas, Andrew Wolf and Ryan Betts were from Lipscomb University; and Caleb Mennen was from the University of Tennessee.