Thomas Weiler receives prestigious Simons Foundation Fellowship
by
Nancy Wise
Jul. 7, 2014, 1:53 PM
by Morgan Franklin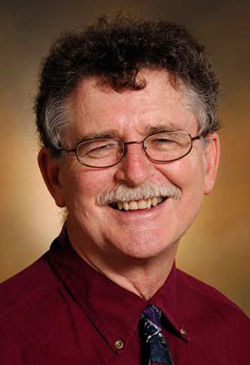 Thomas J. Weiler, professor of physics in the College of Arts and Science at Vanderbilt University, has been named a Simons Foundation Fellow in Theoretical Physics for his work with elementary particle physics and astrophysics.
Weiler will use the fellowship to research topics in theoretical elementary particle physics and particle astrophysics. He will spend part of the 2014-15 academic year at the University of California-Santa Barbara's Kavli Institute for Theoretical Physics co-organizing a 12-week workshop, "Past, Present and Future Neutrino Physics." Other multiweek visiting appointments include the University of Melbourne, University of Hawaii, University of Stockholm, Technical University of Munich and Aspen Center for Physics.
The Simons Foundation is one of the nation's foremost private funders of basic scientific research. Its prestigious fellowships provide replacement for up to 50 percent of a fellow's current academic year salary and enable the extension of academic leaves for research purposes.
"I find myself the beneficiary of a wonderful program," said Weiler, noting that the fellowship will allow him to dedicate the academic year to research at full pay. He also will use it for conference travel for himself and two graduate students.
Weiler is a frontrunner in the use of neutrinos to elucidate new particle physics and astrophysics. He has previously won the Distinguished Alumni Fellow Award from the University of Wisconsin, received the Alexander von Humboldt Senior Research Career Award from Germany's Alexander von Humboldt Foundation and served as an elected member of the Fermi National Accelerator Laboratory board of directors. He is one of only 17 Simons Foundation Fellows in Theoretical Physics for 2014-15.
Simons Foundation fellowships are based on an applicant's scientific accomplishments in the five-year period preceding the application and on the potential scientific impact of the recipient's work.