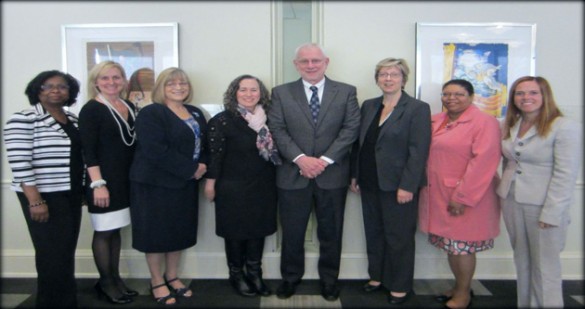 Vanderbilt hosted an informational meeting and networking luncheon in April with Tennessee higher education institutions to explore forming a Higher Education Recruitment Consortium (HERC) for the Tennessee region. Twenty-seven representatives from 11 institutions attended the event.
HERC is a nonprofit consortium of more than 600 colleges, universities, hospitals, research labs, government agencies and related non- and for-profit organizations. Consortium members share a commitment to hiring the most diverse and talented faculty, staff and executives.
HERC members specialize in helping dual-career couples and diversifying applicant pools. Addressing dual-career issues is important because campuses are not recruiting individuals anymore—they are often recruiting families. In addition, HERC diversifies applicant pools by advertising, partnering and attending conferences with minority-serving publications, societies and organizations.
At the April meeting, the central HERC executive director, Nancy Aebersold, and HERC board member Elizabeth Ancarana, assistant provost for faculty development and diversity at Harvard University, discussed the benefits of HERC, demonstrated the HERC website and answered questions.
As a result of the interest expressed, the Tennessee HERC Advisory Board was formed consisting of representatives from the University of Tennessee-Knoxville, Tennessee State University, Belmont University, Rhodes College, Nossi College of Art and Vanderbilt.
Look for more information about HERC in the coming months. In the meantime, explore the HERC website to learn more about the consortium.
Contact: Rose Mirzaie Damabi, (615) 424-7944
rose.mirzaie@vanderbilt.edu