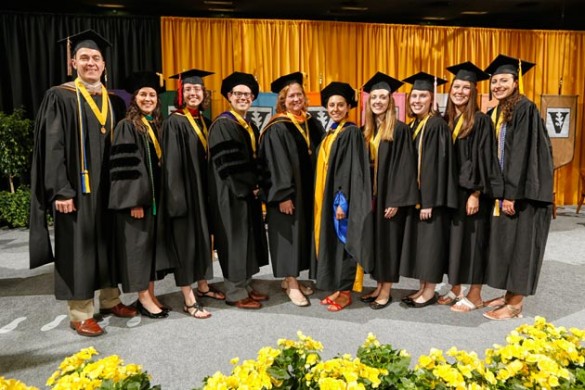 This year's top scholars from Vanderbilt University's undergraduate and professional schools were honored with Founder's Medals during Commencement on Friday, May 9, 2014.
Since 1877, a gold medal has been awarded to the student graduating at the top of his or her class from each of Vanderbilt's schools. These awards are called "Founder's Medals" in honor of university founder Cornelius Vanderbilt, who made a specific contribution to endow the awards in their first year.
Chancellor Nicholas S. Zeppos presented the Founder's Medals to the students.This year, a Founder's Medal for oratory, for which any undergraduate on the debate team is eligible, also was awarded.
The Founder's Medalists are:

Mae Louise Mosley, from Henderson, Kentucky, Founder's Medalist for the Blair School of Music, graduated with a bachelor of music in musical arts/teacher education, instrumental/general. A recipient of the Martha Rivers Ingram Scholarship and a four-year member of the Spirit of Gold marching band, Mosley served as head field commander this year. She was the first music teacher education student to study abroad, spending a semester at the University of Sydney and the Conservatorium of Music. Mosley is a member of the music honor society, Pi Kappa Lambda, and won the prestigious Presser Award. After graduation, she will continue in the five-year Blair/Peabody teacher education program, planning to receive her master's in education and teacher licensure in May 2015.

Kristin Lee Bater, from Villanova, Pennsylvania, Founder's Medalist for the College of Arts and Science, graduated with a bachelor of arts. Through her major in neuroscience and extensive work in faculty research labs, Bater has pursued understanding of the molecular underpinnings of neurocognitive disorders. She has used her skill in dance to organize lessons and performances for Nashville residents with intellectual and developmental disabilities by linking Nashville's Best Buddies with Vanderbilt's Momentum Dance Company. This fall, Bater will enter Johns Hopkins School of Medicine.
Susannah Marie Morris, from Atlanta, Georgia, Founder's Medalist for the Divinity School, graduated with a master of theological studies. As a Carpenter Scholar, Morris represents the next generation of theologians. Her intellectual passion for ancient languages and Biblical studies inspired her to travel to Israel to excavate in Jezreel, while at home she collaborated with a multi-ethnic worship community supported by the Presbyterian Church. This fall Morris returns to Vanderbilt where she has been awarded a University Graduate Fellowship for doctoral studies in religion.

Kasey Rebecca Hill, from Huntsville, Alabama, Founder's Medalist for the School of Engineering, graduated with a bachelor of engineering in electrical engineering. Hill is a Cornelius Vanderbilt Scholar, a recipient of the Paul Harrawood Honors Undergraduate Scholarship, and a member of Tau Beta Pi, Mortar Board and Eta Kappa Nu. Along with serving as the recruitment committee chair for Vanderbilt Student Volunteers for Science, she also participated in undergraduate research with the Vanderbilt Radiation Effects and Reliability Group. This summer, Hill will finish her master's in electrical engineering and then begin work at Raytheon Integrated Defense Systems in Huntsville.

Debra Perrone, from Fair Lawn, New Jersey, Founder's Medalist for the Graduate School, graduated with a Ph.D. in environmental engineering. Perrone's research on water resources was awarded an Environmental Protection Agency fellowship, and she served as fellow at Vanderbilt Institute for Energy and Environment. She was awarded two international fellowships allowing her to live abroad: from the International Institute for Applied Systems Analysis in Vienna, and from the National Science Foundation Summer Institute in Singapore. Perrone has taken a postdoctoral scholar position with the Woods Institute at Stanford University.

William Thomas Marks, from Charlotte, North Carolina, Founder's Medalist for the Vanderbilt Law School, graduated with a doctor of jurisprudence. A recipient of the Hess Scholarship, Marks has received numerous academic honors, including the Archie B. Martin Memorial Award for the highest scholastic average in the first year, Dean's List during all semesters, and scholastic excellence awards in five classes. He served as the editor in chief for the Vanderbilt Law Review and received the Myron Penn Laughlin Award for excellence in writing. After Commencement, Marks will clerk for the Honorable Jeffrey S. Sutton, U.S. Court of Appeals for the 6th Circuit, Cincinnati, Ohio.
Sarah Elizabeth Scott, from Bloomington, Indiana, Founder's Medalist for the School of Medicine, graduated with a doctor of medicine. A recipient of the David Hitt Williams, M.D. Memorial Scholarship, Scott throughout medical school dedicated time to Shade Tree Clinic, the student-run free clinic in Nashville. She had multiple roles, including serving as the pharmacy director. Additionally, Scott was committed to organizations that supported the student body, co-chairing multiple school-wide events and tutoring underclassmen. She is a member of the Alpha Omega Alpha honor society. Scott will continue her training in the combined Internal Medicine and Pediatrics Residency program at Vanderbilt beginning in July.

Cecilia Kennedy Page, from Lexington, Kentucky, Founder's Medalist for the School of Nursing, graduated with a doctor of nursing practice. Page developed a scholarly D.N.P. project for the University of Kentucky HealthCare system, netting a 45 percent decrease in documentation time and a 24 percent increase in nursing satisfaction. She presented her project at the American Nursing Informatics and American Organization of Nurse Executives conferences. She also completed the Robert Wood Johnson Executive Nurse Fellow Program. Page is the interim chief information officer at University of Kentucky HealthCare.

Peter Kevin Attwater, from Kernersville, North Carolina, Founder's Medalist for the Owen Graduate School of Management, graduated with a master of business administration. Attwater was awarded an E. Bronson Ingram Scholarship from Owen and earned the Bruce D. Henderson Scholarship for high honors in his first year. He was the president of the Vanderbilt Health Care Club, served on the board of the Nashville Health Care Council's Leadership Health Care Program, and was a Leadership Development Program guide and a career peer coach. Attwater and his wife, Erica, will be moving to Atlanta, Georgia, where he will join Deloitte Consulting, LLP.

Amanda Lange Palmer, from Birmingham, Michigan, Founder's Medalist for Peabody College of education and human development, graduated with a bachelor of science. As a double major in cognitive studies and child development, Palmer has researched screening measures, performed diagnostics and developed intervention-based scripts for children with autism spectrum disorder. Palmer, a Cornelius Vanderbilt Scholar, a Peabody Scholar and a former recipient of the Susan B. Riley Scholarship, graduated with highest honors for her outstanding thesis work. Palmer plans to pursue a master's in autism and developmental disabilities at the University of Texas at Austin.

In a separate ceremony, George Watson Williford, from Hattiesburg, Mississippi, was awarded the Founder's Medal for Oratory for excellence in the art of public speaking. He graduated with a bachelor of arts in political science and philosophy. Williford, a member of the Vanderbilt Debate Squad, won numerous national and regional awards and qualified for the National Debate Tournament. He served as captain of the squad and was an active volunteer with the Nashville Debate League and the Nashville Elementary Debate Consortium. He plans to enter the doctoral program in political science at the University of Georgia.