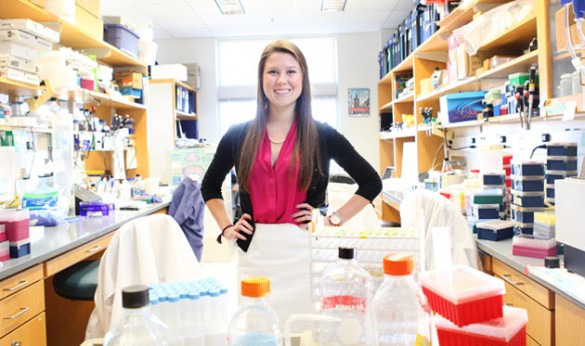 As a pre-professional ballet student while in high school, senior Kristin Bater learned about a dance program that served individuals with Down syndrome. That sparked her interest in the science side of intellectual and developmental disabilities and changed her career path. She chose to attend Vanderbilt on the strength of its neuroscience research programs and the possibility of getting hands-on experience in a lab.
Bater wasn't disappointed. Beginning sophomore year, the honors neuroscience major from Villanova, Pa., worked alongside fellow undergrads, graduate students and post-docs in the lab of Randy Blakely, the Allan D. Bass Professor of Pharmacology. With access to a state-of-the-art behavioral research facility in Medical Center North, she carried out her own project looking at how disrupted signaling of certain neurotransmitters might contribute to depression and anxiety. This gave Bater a big boost on her way to becoming a practicing research physician.
"[lquote]I've found that doing research really bridges the gap between something being very theoretical and academic and something being more practical and patient-centric," she said.[/lquote] "I think to be the best clinician-scientist possible, you need to have that background training in basic science, because it allows you to see where everything originates."
Bater's experience included some unique perks—such as being the only undergraduate researcher at a conference on learning and memory last summer at the Neuroscience School of Advanced Studies in Cortona Arezzo, Italy.
"I've gained a lot of hands-on experience, I've done a lot of independent work, and there definitely has been an element of project ownership that I don't think is characteristic of most undergraduate research projects," said Bater, who plans to continue her research training during medical school at Johns Hopkins University.
She isn't the only Vanderbilt undergrad gaining valuable time at the bench and getting one-on-one mentorship from faculty. According to a 2013 survey of graduating seniors, more than half did faculty-guided or independent research during their Vanderbilt careers.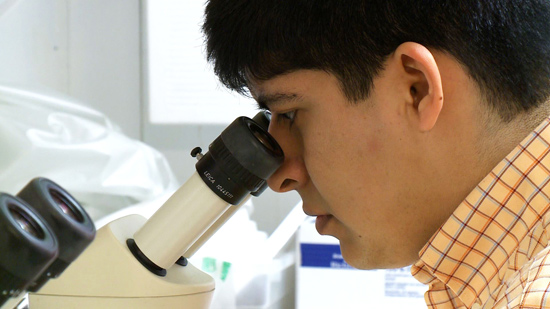 Class of 2014 senior Juan Malpartida, a biology and Spanish major from Dalton, Ga., joined Professor Larry Zwiebel's lab as a sophomore. Zwiebel, the Cornelius Vanderbilt Professor of Pharmacology, studies the sensory systems of disease-transmitting mosquitoes. His mission is to develop new kinds of repellents that impede the mosquito's ability to sniff out prey but are still safe for the environment. This research hits home for Malpartida.
"Since malaria, yellow fever and other mosquito-borne illnesses are prevalent in Peru, where my grandparents are from, the Zwiebel lab was a good fit for me," he said.
Working with insects on a microscopic scale has helped direct Malpartida's long-term goals. "I really enjoy focusing on a specific task for a long time and working with my hands. That's led me to consider surgery," he said. "Not only do I have a passion for serving people, I want to advance the field of medicine."
Vanderbilt students engage in research that spans nearly every academic field offered by the university. Most, like Bater and Malpartida, get involved by actively reaching out to professors, academic advisers or graduate students whose current projects interest them.
"[rquote]Vanderbilt is both a top 25 research university and a top 25 undergraduate institution, which puts us in a very select group,"[/rquote] said Cynthia Cyrus, associate provost for undergraduate education. "One of the things that we can provide is the intersection of those two experiences."
Each of Vanderbilt's four undergraduate schools offers honors programs that require research or independent study as part of their extended curriculum. Students can apply to publish their work in the online Vanderbilt Undergraduate Research Journal or other academic publications. They also have opportunities to present on campus and at academic conferences. "We give students the opportunity to participate in the production of knowledge guided by an expert in their field," Cyrus said.
That's the case for Nicole Chanin, a junior sociology major from Sparta, N.J. Chanin always enjoyed watching crime dramas on TV, but it wasn't until she took an elective criminology class with Assistant Professor of Sociology Evelyn Patterson that she got a clearer picture of reality.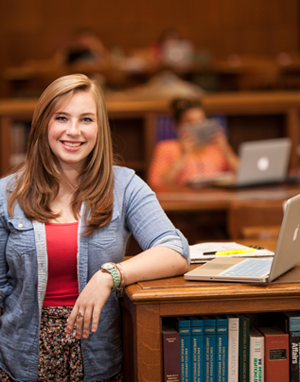 "I thought our criminal justice system worked as effectively as possible and that justice was usually served," Chanin said. "I had no idea the United States leads the world in mass incarceration and prison overcrowding, the disproportionate figures of who we're incarcerating and why, or the lack of rehabilitation we offer. America is tough on crime but has more of a punitive mentality than a rehabilitative one."
Chanin wrote a paper for the class proposing that nonviolent offenders have greater access to educational and career services from day one of their incarceration—including partnerships with the local business community—to increase their chances of gaining employment after release and decrease the likelihood they will end up back in prison. So passionate was she on the subject that Patterson invited her to expand the paper through independent research. The result is "Tough on Crime or Soft on Reality?" which Chanin presented at the Southern Sociological Society meeting in Charlotte, N.C., this spring and will use as a starting point for her honors thesis next year.
Chanin was pleasantly surprised by the level of autonomy and support her professor gave her. She expected to be assisting Patterson on her existing research, but quickly found it the other way around.
"On the first day she said, 'I want you to outline what you're thinking and tell me what I need to do for you,'" Chanin said. "I was taken aback by this. It was nerve-wracking and exciting."
One thing Vanderbilt does particularly well is enable students to engage in research that crosses traditional disciplinary lines, Cyrus noted. A significant number of undergraduates pursue research outside of their school or major.
Brian Cooper, a junior from San Carlos, Calif., is a musical arts major specializing in clarinet. But much of his time away from the Blair School of Music is spent in the lab of Antonis Rokas, the Cornelius Vanderbilt Professor of Biological Sciences.
Rokas studies the so-called Tree of Life—examining DNA to better understand the evolution of both the fungal and human genomes. His lab is developing new statistical methods that make it easier to accurately determine the relationships among various species. That's where Cooper comes in.
"Working with genomes is nearly impossible on paper. It relies heavily on computational tools, such as algorithms and software," explained Cooper, who is pursuing a second interdisciplinary major in bioinformatics, a field that bridges computer science and biology.
The Rokas lab recently joined more than 10 other institutions for a collaborative project funded by the March of Dimes Foundation to investigate the genetic basis for preterm birth. Cooper is the only undergraduate participating.
"[rquote]There's no crossover at all between what I'm doing in the practice room or on the performance stage and when I'm in the lab sifting through genomes," he said, "and that's exactly what I wanted coming to Vanderbilt.[/rquote] There aren't a lot of places that would allow me to be so passionate about music in tandem with other academic pursuits."
Cooper said he's found plenty of help and resources along the way. "I'm really grateful to everyone on the music side, biology side and computer science side who has helped me make this experience possible," he said.
He soon will get more help in the form of a Vanderbilt Undergraduate Summer Research Program grant. The 10-week stipend will allow him to design the interface for a large Web portal that will serve the entire March of Dimes collaborative. Vanderbilt awards some 40 VUSRP fellowships each year.
It will be a full summer for Cooper, who's also been selected for the Vanderbilt Music Académie in Aix-en-Provence, France. He will spend a month studying with members of the Berlin Philharmonic and performing in a woodwind quintet in between stints back in Nashville at the Rokas lab.
Desiré Hough, a senior studio art major from Bethlehem, Pa., is proof that scientific pursuit can inspire creative output, sometimes in surprising ways. She spent three years as a research assistant in Associate Professor of Medicine Jay Fowke's lab, where she processed patient samples as part of a long-term study looking at how diet and obesity may affect prostate cancer risk.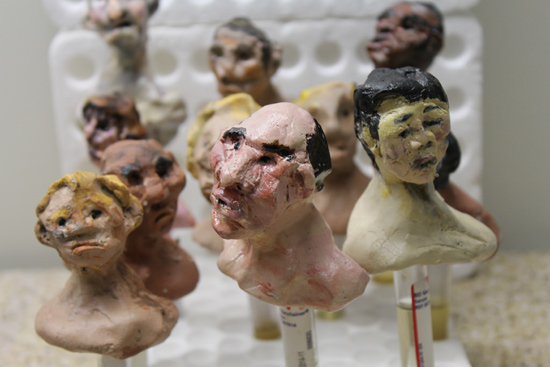 The patient samples were anonymous, but after many hours spent working with them, Hough began to imagine the people they represented. Using objects found in the lab and materials such as clay and expandable urethane foam, she created sculpture depicting her idea of these patients in various states of repose. She called the collection Where the Samples Sleep.
"When I rearranged the figures into a vial tray, I saw a crowd, which intrigued me to further study collective energy: the power of a collection of samples vs. just one sample—how 15 years of research can tell you something that one sample alone cannot," she said. "This idea grew into my senior project, Crowd Effervescence, where the energy of a gathering of people is depicted through a crowd-sized sculpture."
For Hough, the creative process was sparked at the intersection of science and art. "Everything that's created has roots in imagination," she said. "Scientific research begins with observation, then you use a little imagination to come up with your hypothesis. Art is a similar process, just more open-ended."
Through innovative work, Vanderbilt faculty and students are making notable contributions to the fields of health care, education, social science, humanities, music and much more.
"One of the things that research provides is that taste of how the life of the mind informs the individual," Cyrus said. "One of the delights of being a faculty member is having the opportunity to explore new ways of thinking about things. To give students a taste of that is a profoundly transformative experience."
Learn more about undergraduate research at Vanderbilt.
Among undergraduates …
More than 50 percent of undergraduates at Vanderbilt participate in research
34 percent of undergraduate researchers earn academic credit for their work
(Source: Vanderbilt Office of Honor Scholarships)
Vanderbilt is …
1 of only 12 schools nationwide to achieve top 25 status among research universities and undergraduate institutions
$616 million in university-wide sponsored research and project awards (FY 2013)
(Source: Vanderbilt Institutional Research Group)