Health Plus is your partner for healthy lifestyle practices
Apr. 14, 2014, 11:03 AM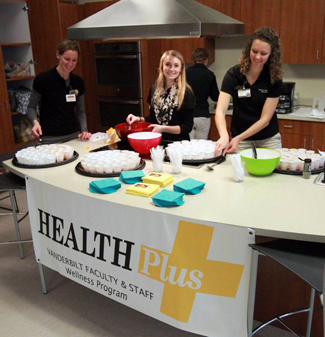 Health Plus is here to support your department from our offices located in the Vanderbilt Recreation and Wellness Center, around campus and at off-site locations. The Health Plus team comes to you with a variety of services personalized for your department.
Know your Numbers – Health Plus comes to you to offer Know Your Numbers to measure blood pressure, weight and body mass index. These numbers can be used on your yearly Health Risk Assessment and compared throughout the year for changes.  Click here to find out more and view the Know Your Numbers Calendar of Events schedule for on campus and off-site locations.
Go for the Gold Support – the Health Plus team is available to visit your department to offer support and answer questions related to Go for the Gold.  Remember the Go for the Gold deadline is Oct. 31!
Wellness Commodores – You can make a difference! Share your passion for wellness by becoming a Wellness Commodore. A Wellness Commodore is an advocate for wellness in their department. Contact us if you are interested in becoming a Wellness Commodore or find out if your department has a Wellness Commodore.
Nurse Wellness Unit Visits – Health Plus partners with the Nurse Wellness Committee to provide customized unit visits to promote healthy lifestyle practices.
Presentations and Cooking Demos – Want to learn about reading nutrition labels, how to stick to an exercise routine, or have a Q&A with a Wellness Coach? The Health Plus team is available for special department presentations.
Coaching – Do you want help setting wellness goals, losing weight, or sticking to your exercise routine? Health Plus offers Wellness Coaches who are available for one-on-one coaching and special group presentations. Learn more about Wellness Coaching.
Health Plus is part of Faculty/Staff Health & Wellness.
Contact: (615) 343-8945, health.plus@vanderbilt.edu or
brad.awalt@vanderbilt.edu