Media Inquiries
Latest Stories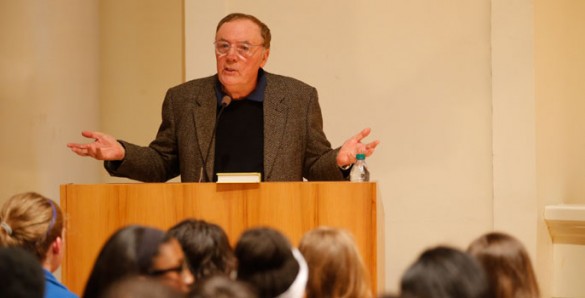 Best-selling author James Patterson addressed a gathering of about 100 Nashville middle school students at Vanderbilt on April 8, sharing with them his journey from a childhood in Newberg, the "murder capital of New York," to becoming a successful author.
"My grandparents lived in the Newberg poor house, and now look at me — I make more money than LeBron James," he said. "I don't say that to brag, but to get your attention. I say that to show you that things are possible."
The Isaiah T. Creswell Middle Arts Magnet School students in attendance were selected last fall to participate in Patterson's Reading at Vanderbilt program based on their reading proficiency scores. Their activities include reading books from Patterson's I Funny and Middle School series and participating in accelerated enrichment classes at Vanderbilt through Programs for Talented Youth. The audience with Patterson was held at Vanderbilt Peabody College for education and human development in the Wyatt Center Rotunda.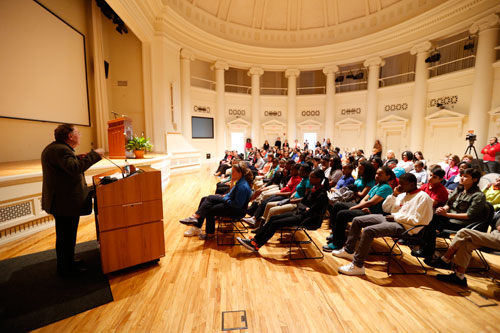 Patterson, a Vanderbilt alumnus (MA '70), made his fortune writing best-selling crime thrillers. He began writing children's books when he discovered his son, Jack, wasn't interested in reading. Patterson described for the Nashville middle schoolers the day that he told his 8-year-old son he would have to read every day for the entire summer.
"Jack complained at first, but by the end of the summer, he was a really good reader," Patterson said. "Just like anything else, you have to practice reading to get better at it. If you aren't a good reader, how are you going to get through high school? Reading will help you get to college if that's what you want, and it will give you more choices in life."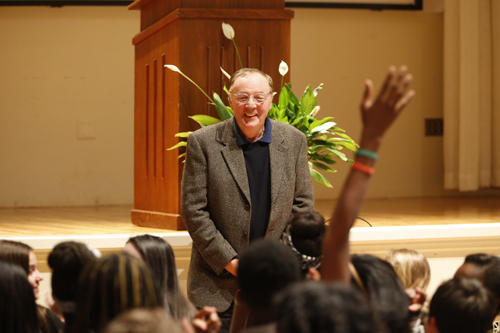 Patterson told students he reads at least two books a week and writes about 12 new books each year. Students were given the opportunity to ask the author questions, including how he has time to write so many books ("You make time for what you love," he said); and which books are hardest for him to write (love stories, because they are slower- paced). When asked what inspires him every day to write, Patterson said, "I just like telling stories."
His advice for aspiring young writers? "Read a ton, write every day if you can, and don't mimic another writer's style. Find your own voice," he said.
In 2009, Patterson established the Patterson Scholars program at Vanderbilt, which supports 19 undergraduates studying to be teachers. His visit to campus included meeting with the scholars as well as Camilla Benbow, the Patricia and Rodes Hart Dean of Education and Human Development at Peabody.
He also spoke with students in his Patterson RAPS (Read and Play Saturdays) program for Nashville-area fifth-, sixth- and seventh-graders. The free program, which started in September 2013, provides support and reading materials on a first-come, first-served basis for about 20-25 local schoolchildren.