Metropolitan Nashville Public Schools has joined with the Vanderbilt Center for Nashville Studies and Peabody College to create a platform to provide detailed, reliable and recurring information about the commitment of major employers to the public school system. This is the latest installment in a series that tells the story of collaborative involvement between members of the Vanderbilt community and local public schools.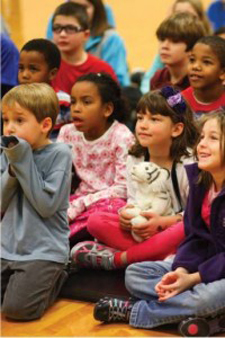 Daffodils are blooming, redbud trees are bursting with pink blooms, and an adventurous few have broken out the Bermuda shorts. All are portents of spring but also signs that it's time for parents of school-aged children to organize summer plans.
Don't despair. Vanderbilt offers a number of options to help channel youthful energy. The most popular are sports camps, including baseball, football, golf, lacrosse, basketball, soccer, tennis and bowling. Camp Vandy, with various recreation, arts and sports themes each week, fills up quickly. Sign-ups began earlier this month.
The Sarratt Youth Art Institute remains popular for children of all ages with a summer 2014 theme of "Create Your Own Landscapes." Check out the gallery exhibit of the same name by Nicole Pietrantone, a Vanderbilt alumna.
The Blair School of Music is home to the Nashville Summer Orchestral Institute for school-age children. For the very young, Blair also offers Kindermusik Summer Adventure Classes—music education and developmental learning through song and movement. Parents or caregivers join in those classes for all or part of the session.
For the academically inclined, the Pre-College PAVE Program, entering its 24th year, provides academic, career and research opportunities over five weeks for students planning to enter a college engineering, pre-medical, science or technology program.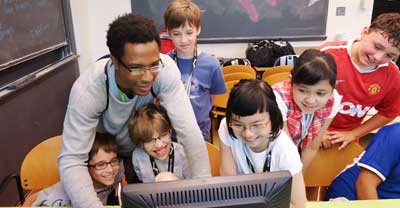 Build a robot or create a website as part of weeklong day and overnight iD Tech Camps for ages 7-17. Students have a number of tech-oriented options, from developing iPhone and Android apps to designing video games to producing films.
Vanderbilt Programs for Talented Youth was founded in 2000 by Camilla Benbow, dean of Peabody College of education and human development, as a summer academic program for gifted middle and high school students. PTY has since expanded to include year-round programs for talented children in grades K-12 as well as their families and educators. The summer programs remain vibrant and strong and include the Summer Academy for the Young for gifted first- through seventh-graders. Academically talented eighth- through 12th-graders who qualify may apply to the Vanderbilt Summer Academy for intensive summer residential programs.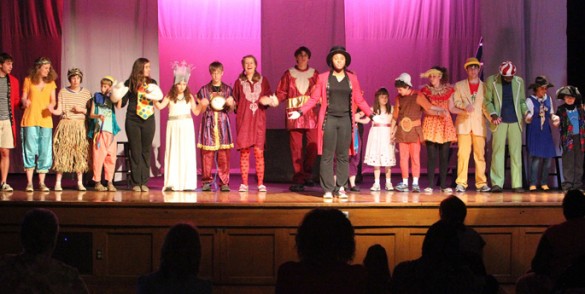 Young people with disabilities have a number of options as well, but unfortunately the SENSE Theatre Camp, a two-week camp for children with autism, is already full. Camp Progress, a partnership with Metro Parks and Metro Nashville Public Schools, offers interactive and entertaining activities for young people with intellectual disabilities in a traditional camp experience. The Next Steps at Vanderbilt Summer Institute is a college transition program for rising high school juniors, seniors and young adults with developmental disabilities. It offers a glimpse of the college experience for students who might be considering a post-secondary program such as Next Steps at Vanderbilt.  Scholarships are available.
The wooded, hilltop campus of Vanderbilt Dyer Observatory will be home to a Space Science Camp for middle school students in July. Dyer also offers field trips to area schools from March through November every year, helping teachers supplement their STEM and astronomy curriculums. Parents or caregivers looking for a single summer outing can sign up for Open House Days or Telescope Nights at the observatory. And what better way to enjoy a hot summer night with your children than looking up at the stars!
Get ready for kindergarten enrollment March 31–April 4
One of the most exciting days in a child's life is the first day of kindergarten. Parents of children who will be 5 by Aug. 15, 2014, and who will attend Metro Nashville Public Schools in 2014-15 are invited to begin this journey during Metro Schools Kindergarten Enrollment Week March 31–April 4.
To make it easy for parents and legal guardians to enroll their children, the enrollment process may be completed at either their zoned elementary school, open from 8 a.m. to 3 p.m. Monday–Friday, or at an Enrollment Center, open from 7 a.m. to 4:30 p.m. Monday–Friday in their zoned high school.
Parents should have proof of residence as well as the child's birth certificate, physical exam and immunization records. Parents of children who are English Learners School may call the English Learners Office at (615) 259-8608 to make an appointment for a language assessment. For complete enrollment information, visit www.mnps.org/Page109325.aspx .
To ensure your child is ready for kindergarten, take advantage of the resources at www.itrails.org. Metro Nashville Public Schools classes for 2014-15 begin Wednesday, Aug. 6.