School of Medicine Moves into NIH Top 10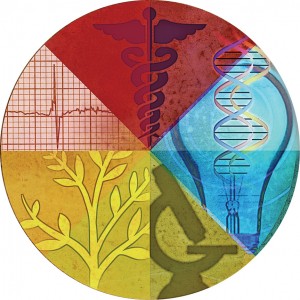 Annual figures available from the National Institutes of Health (NIH) show Vanderbilt University School of Medicine (VUSM) ranked ninth in the nation last year among U.S. medical schools in total grant support provided through the nation's medical research agency. Receiving $292.4 million in NIH grant support during calendar year 2013, VUSM moved up four places from its 2012 ranking with an additional $5.7 million in funding.
The NIH is the world's largest funding source for biomedical research, and NIH support is considered a key indicator of an institution's overall strength in biomedical research. More than 80 percent of the NIH's budget supports more than 300,000 research personnel at more than 2,500 universities and research institutions.
"The availability of federal research funding for our nation's academic medical centers has been contracting during the past decade," says Dr. Jeff Balser, MD'90, PhD'90, vice chancellor for health affairs and VUSM dean. "The NIH continues to face significant challenges, including the impact of the 2013 federal sequester. As a result, the national funding climate for research is fiercely competitive, and yet our investigators and their research teams continue to have unparalleled success."
This year four of Vanderbilt University Medical Center's basic science research departments and six of its clinical departments are ranked among the nation's top 10 in NIH funding relative to similar departments at peer institutions.
Among VUMC's basic science departments, both biochemistry and molecular physiology and biophysics are ranked first among peers. Pharmacology is ranked second, while cell and developmental biology is ranked fourth. Six of VUMC's clinical departments, housing more than 2,000 faculty who care for patients while leading basic and clinical research activities, ranked among the top 10: internal medicine, pediatrics, radiology and radiologic sciences, anesthesiology, otolaryngology and hearing and speech sciences, and the section of surgical sciences.
Funds from the NIH enable Vanderbilt's scientists to advance the university's pioneering mission to understand the underlying causes of, and develop treatments for, many devastating adult and childhood diseases. Vanderbilt's researchers are seeking answers to diseases and disorders that cost the U.S. economy nearly $3 trillion each year, including autism, Alzheimer's disease, cancer, cardiovascular disease, diabetes and Parkinson's disease.