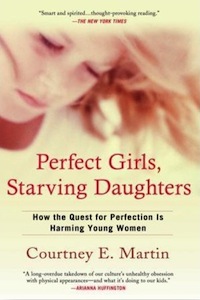 Award-winning author Courtney E. Martin will deliver the 2014 Cuninggim Lecture on Women in Culture and Society at Vanderbilt University Tuesday, March 25, at 6 p.m. in Langford Auditorium.
Her talk, "Perfect Girls: A Generation of Young Women Were Told We Could Do Anything and Somehow Heard that We had to be Everything," is free and open to the public. The Cuninggim Lecture is endowed through the Margaret Cuninggim Women's Center at Vanderbilt University.
Martin will explore how young women have come to dangerously define success as "effortless perfection." Drawing on her critically-acclaimed book, Perfect Girls, Starving Daughters: How the Quest for Perfection is Harming Young Women, she will argue that disordered eating, food and fitness obsession and anxiety disorders have become normalized among today's young women. She has sounded a call to action for all women to stop settling for self-hate and start changing the world.
Martin serves as editor emeritus at Feministing.com and is co-founder of the Solutions Journalism Network. Her other books include Do It Anyway: The New Generation of Activists, Project Rebirth: Survival and the Strength of the Human Spirit from 9/11 Survivors, Click: When We Knew We Were Feminists, and The Naked Truth: Young, Beautiful and (HIV) Positive.
Her work has recently appeared in The New York Times, The Washington Post, The Christian Science Monitor and MORE magazine. She also has appeared on the TODAY Show, Good Morning America, MSNBC and The O'Reilly Factor. Among her awards is the Elie Wiesel Prize in Ethics.
The Margaret Cuninggim Women's Center, which is part of the Office of the Dean of Students, offers a space for the entire Vanderbilt community to gather, nurture and support one another, as well as celebrate women's achievements. The center develops and presents programs about gender and women's issues, enhances women's practical skills and fosters creative expression.
For more information on this event or the Margaret Cuninggim Women's Center, call (615) 322-4843.