New York Vanderbilt chapter hosts tech entrepreneurship panel
Feb. 19, 2014, 3:53 PM
Eighty-four Vanderbilt alumni and guests attended the Feb. 18 Tech Entrepreneurship Panel hosted by the New York City Vanderbilt Chapter. The event featured insight from Vanderbilt alumni involved with six tech startup companies. Eric Johnson, dean of the Owen Graduate School of Management, moderated the panel.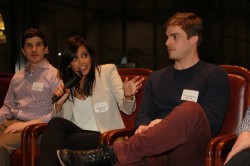 The event was created by Alex Quintana, BA'05, MSF'06, the chapter president, and a committee of alumni volunteers. They took advantage of the great community of Vanderbilt alumni entrepreneurs in New York that regularly meets to discuss their work. The panel format allowed them to talk about their companies with an audience interested in possible new career paths.
Alumni and guests in attendance spread the excitement and insight from the event by live tweeting. Those tweets have been compiled in a Storify for more to enjoy.